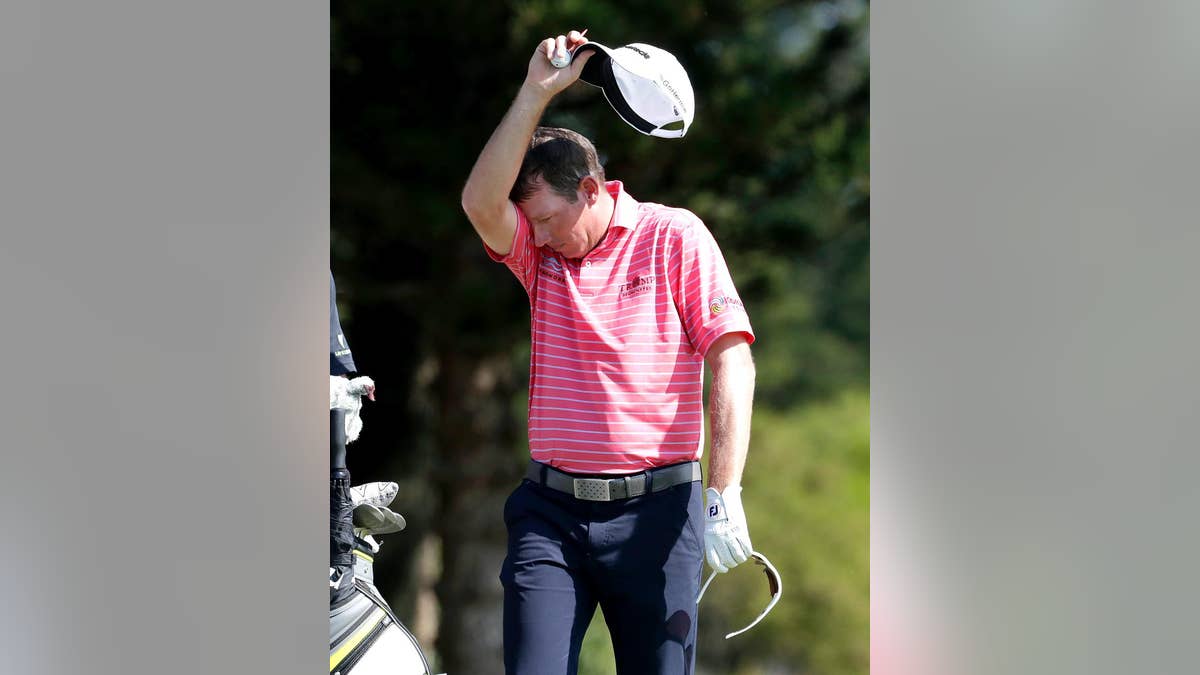 KAPALUA, Hawaii – Jim Herman's first trip to Kapalua was for his honeymoon.
The next one felt more like a fairy tale.
Herman had given up on the grind of mini-tours and Q-school heartaches when he took a job as an assistant pro, got married and took his bride on a cruise of the Hawaiian islands for their honeymoon in 2005. When the ship stopped in Maui, he couldn't resist a chance to see the Plantation course at Kapalua.
"No way I wasn't coming to play the golf course," Herman said. "We got off, rented a car and came over. We were first off in the morning and we had a great time. Used rental clubs, just playing with three other gentlemen, and my wife rode along with us. We just had a great time. Good memories. I see the pictures on our computer all the time. We had a great day."
Thursday was a pretty good day, too.
Herman made his SBS Tournament of Champions debut with a 6-under 67 to trail PGA champion Jimmy Walker by two shots.
He never could have imagined the circumstances of his return to Kapalua. They include a job offer at Trump National Bedminster in New Jersey and a round with course owner Donald Trump, who told him he was good enough to be on the PGA Tour and encouraged him to give it another try. Herman made it to the minor leagues, then the PGA Tour, and he became a winner last spring in the Shell Houston Open.
That got him back to Kapalua, but not before one more detour. He played golf with Trump again right before Christmas.
"He's the same guy to me," Herman said, "but now I get to call him Mr. President."
Herman's relationship with President-elect Trump is well-documented, and he's proud of it. He wears the Trump logo on the crest of his shirt and has it on his golf bag. Herman is skipping the CareerBuilder Challenge after the two-week swing through Hawaii so he can attend the inauguration.
Standing on the first tee Thursday morning in a 32-man field of only PGA Tour winners made it hard for Herman not to wonder how he got there.
"Did I ever think I would be here at that time, 2005? I'd like to say that I always believed it," Herman said. "But it's a pretty long way from being assistant pro to a tournament winner on the PGA Tour. Obviously, it's attainable and I hope everyone that's out there grinding and trying knows that they can do it. If I did, anybody can."
Going from the mini-tours to the pro shop to the minor leagues to the PGA Tour is not unusual. That was the path taken by the likes of Zach Johnson, Russell Knox and Kevin Kisner. It's hard work. It takes a little luck and a lot of timing.
There was no shortage of that for Herman, who grew up in Cincinnati and didn't even make his freshman team in high school. He moved to Florida when he got out of college at Cincinnati and tried the Golden Bear Tour. It wasn't long before he went to withdraw money and realized there was none there.
Herman met enough people at PGA Village in Port St. Lucie, Florida, to help him along with entry fees and travel. Each year, a little of his dream died at Q-school when he couldn't get past the second stage. And then it was time to find a job as an assistant pro and settle down.
"I know there's a lot of guys out there that have failed. They ran out of money," Herman said. "That's the biggest thing is money to survive. You see a lot of guys come out, they're all All-Americans and if they don't get out right away, then two years go by and you're like, 'Well, where did he go?' You've got to get through, and you've got to have some people helping you out to keep you above water."
The big break?
Herman said a college roommate who was an assistant at Trump National took a job with Titleist and recommended him as his replacement. That meant moving his wife (a school teacher) to New Jersey, but it allowed Herman more playing opportunities in the talent-rich New York Metropolitan section of the PGA of America.
And then the golf director, Mickey Gallagher, told Herman he would be playing with Trump one day.
They became regular partners after that round, and they usually won. Herman said Trump gave him some financial backing to try to make it through Q-school, which he finally did after one more failure. And then he was on his way.
Even if he dreamed about coming back to Kapalua as a player, he wouldn't have drawn it up like this.
Herman doesn't know what he shot on his honeymoon. He remembers holing out for eagle on the 12th hole, getting home in two on the par-5 18th and probably posting something around par. But he didn't play the championship tees. And he was wearing tennis shoes.
He at least came to Maui on a winning streak. That's because he played with Trump. They don't lose very often.
"We took on three members of the club and we were victorious," Herman said with a smile. "We had a pretty good win."