Jets WR Eric Decker lauds CB Buster Skrine: 'He's stood out in camp'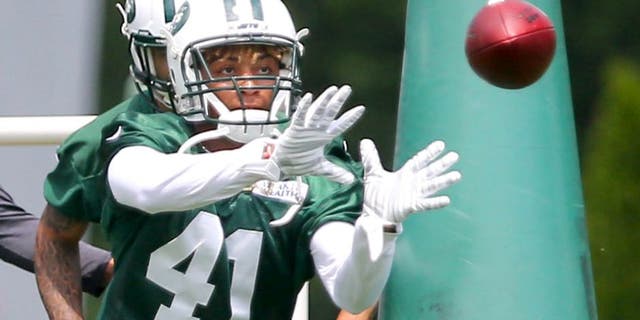 NEWYou can now listen to Fox News articles!
For the most part, the New York Jets' overhauled secondary has impressed. Darrelle Revis is, well, Darrelle Revis, while offseason-acquisitions Marcus Gilchrist and Buster Skrine have played well in camp.
Skrine, who's expected to be the slot corner for the Jets, is a scrappy and tough player, constantly mixing it up with receivers. That's exactly what his teammate Eric Decker likes about him.
"He's stood out in camp, in my opinion," Decker said via Darryl Slater of NJ.com. "He's a guy that every time you put him on the tape, he's around the football, whether it's in one-on-ones, whether it's just team drills, run plays. He's not afraid to get his nose in there."
For the Jets' receivers, matching up against the team's defensive backs isn't easy. The Jets have arguably the best secondary in the league, giving Marshall and Decker a challenge with every rep. At the very least, it will help them improve.
"It's always a challenge to go against him [Skrine]. We [Decker and fellow starting receiver Brandon Marshall] love going against him because it's a whole different dynamic. The guy goes 100 percent every single play. It's unbelievable, just the tenacity he has. He's going to make a difference for us."
Skrine is entering his first season with the Jets after signing a four-year, $25 million contract this offseason. That big contract is largely due to the fact that he had four interceptions last year and was a standout player for the Browns last season.
(h/t NJ.com)