Jets' Brandon Marshall calls Chris Ivory 'best RB in the league'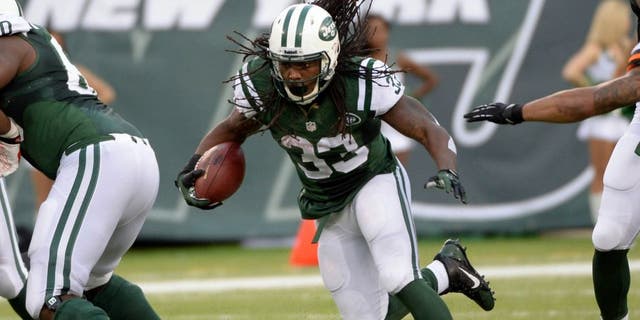 Brandon Marshall shared his feelings on Chris Ivory's position as a top back in the NFL. Robert Deutsch USA TODAY Sports
When considering the best running backs in the league, Chris Ivory's name probably doesn't come to mind. His teammate Brandon Marshall thinks it should.
Surprisingly, Ivory has flown under the radar to lead the league in rushing yards per game (104.7). He's also found the end zone three times in just four games, which puts him on pace for 12 rushing touchdowns this season. Ivory has never eclipsed 1,000 yards rushing in a single season, however, this year could change that.
When Marshall was asked about Ivory, he wasn't shy about heaping praise on his running back.
"He's already the best running back in the league," Marshall said via Manish Mehta of the New York Daily News. "He runs really violently. ... He doesn't even know how good he can be and that's the scary part."
Ivory runs extremely hard and certainly isn't afraid of contact, and sometimes that can be his own worst enemy. In order for both Ivory and the Jets to have success in 2015, he'll need to stay healthy -- and that could mean running out of bounds instead of lowering his shoulder.
He's already missed one game this season, and the Jets can't afford to lose their leading rusher for additional contests.
MORE NEWS: Want stories delivered to you? Sign up for our NFL newsletters.