Jesse Gonzalez says he wants to play for Mexico, not the USMNT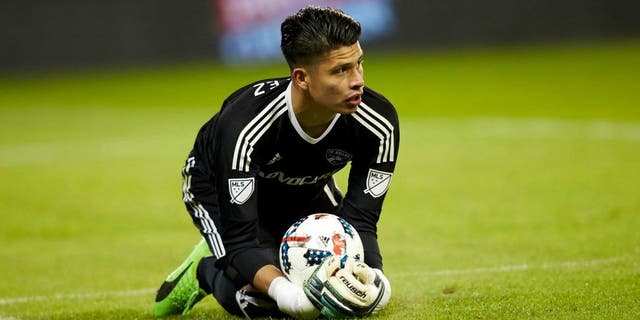 Jesse Gonzalezwants to play for Mexico, not the United States. The dual national told AS that his aim is to suit up for El Tri, making it clear where his allegiances lie a year after Mexico and the U.S. battled to get him to choose their sides.
"I feel more Mexican," said Gonzalez. "My entire family is Mexican and I am proud of my heritage. Of course I would play for Mexico and I hope one day to get the chance."
Gonzalez was born in North Carolina to Mexican parents and raised in Texas. He's played for the Mexico U-20 and U-23 teams, but Jurgen Klinsmann tried to call him into the U.S. senior team in 2016 in an attempt to snag him away from El Tri. He originally agreed and was set to play with the Americans, but later decided against it.
It's never been much of a secret that Gonzalez preferred Mexico. After all, he played for El Tri at the youth level -- including an U-20 World Cup -- all while the U.S. showed interest, but this is the first time he's said so publicly and made his reasoning clear. Now, barring a significant shift, it's hard to see him playing for the U.S.
If Gonzalez wanted to play for the U.S., he would have to file for a one-time switch with FIFA that would tie him to the Americans forever. There is no ability for him to jump back and forth as he tries to figure it out.
Gonzalez isn't the same hot prospect he was when Klinsmann tried to get him into the U.S. team at the start of 2016. Then, he was coming off a strong close to the MLS season, where he started all four of FC Dallas' playoff games despite being just 20 years old. But he played just six times for FC Dallas last season, failing to keep hold of the starting job.
Still, Gonzalez is only 21 years old and phenomenally talented. Even with his stumble last season, he's well ahead of most every other goalkeeper his age too, and he's been strong in five starts for FC Dallas this season. There's no reason to think that Gonzalez won't be a very good backstop and someone who could spend a decade or more between the sticks for a national team. That's especially true with Mexico and the U.S. both featuring older goalkeepers that will need to be replaced soon, but the Americans will have to look elsewhere. Gonzalez wants to suit up for El Tri.