Jeff Hammond: NASCAR All-Star race is going to be 'unbelievably competitive'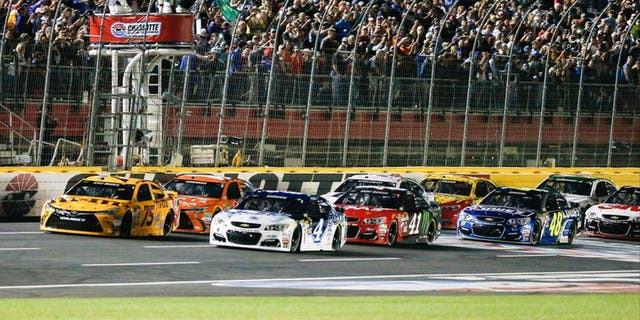 NEWYou can now listen to Fox News articles!
Im really excited about the changes being made for the Monster Energy All-Star Race on May 20th at Charlotte Motor Speedway, with live television coverage here on FS1.
I think it was best said by Kurt Busch: A clean format.
Its not going to be confusing. Four segments, 70 laps total 20, 20, 20 and then 10 laps, with the winner walking away with $1 million.
What makes it interesting, No. 1 is qualifying. Having an opportunity to come down and make a pit stop wide open coming onto pit road has been an eye-opening experience for a lot of race fans and a lot of competitors.
And, oh, by the way, one pits stop was good enough before, but now were going to go for two. The five fastest teams in the first round of qualifying, theyve got to go out there and do it one more time to determine who gets the pole.
Theyve got to perform flawlessly to try and get their organization the best possible starting spot.
And here we go with drivers: Sometimes, you let em do something once and they think Well, I kinda got it figured out. I can do it better the next time by. So we might see a guy with a top-five car have to go to a backup car before the green flag drops because I can see one of the drivers coming off Turn 4 to pit and looping it or getting out in the grass and tearing something up.
Theyre going to have to be smart and not worry about it, because you have to realize theyre going to give the Pit Crew Competition Award to the crew that has the pit stop. So the driver has to figure out, do I want to make the crew look good, or do I want a million dollars?
If Im already up there in the top five, thats not a bad place to start. Its going to be interesting how the teams play that out. And then you throw in the fact that we have an option tire this time weve kind of opened that door that makes us a lot like other racing series.
Weve had a lot of fans and even some competitors say, We need to bring that into NASCAR.
Im a big believer that keeping things simple works better in the long run. Its going to make it exciting, but its also going to make you understand why you want to keep Pandoras Box shut and not give too many options.
Because I think these tires are a dynamic that if you play em at the right time, you have a fast pit crew, you can get em on and be up close to the front for the final 10 laps, I think youre going to be in good shape.
Its going to be unbelievably fast. I think its going to be unbelievably competitive. That extra grip is going to open up another half a lane, either higher or lower if they need it, or they can still run through the middle.
I dont know if you can do this or not at Charlotte, but we may find out for the first time that they can run three-wide around this race track, because thats what these guys are going to want to do.
And if you havent bought a ticket yet, fans, you might want to. Its going to be exciting.
ISC Archives via Getty Images | RacingOne