Jason Witten doesn't think Tony Romo is 'retiring anytime soon'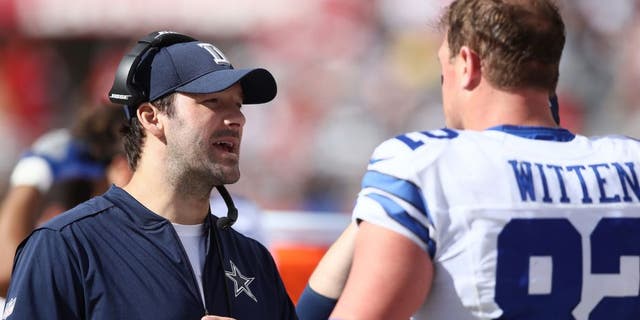 The biggest storyline in Dallas right now isn't the Cowboys' stellar and surprising 8-1 record. It's not the play of the offensive line, arguably the best unit in football. It's the admirable job Tony Romo's done after learning that he'd be the backup until further notice.
He gave an emotional, heartfelt speech on Tuesday to the media, inciting respect and gratitude from just about everyone in the NFL. When he began his statement, it almost appeared as though he was going to call it a career and hang up his cleats. He was stoic, unexcited and visibly upset about his position, but not to the point where he'd retire.
Jason Witten doesn't expect that announcement to come anytime soon.
Witten took that idea a step further, saying he's never even thought that Romo's days in Dallas are numbered. He's not the only one who's never had that pop into his mind, either.
Witten wasn't surprised in the slightest bit by Romo's near-perfect handling of the situation, or by his inspirational reading Tuesday. He wasn't shocked to see Romo address his predicament with class and great respect for Dak Prescott.
Romo may not be the starter, but there's still a chance he'll have an impact for the Cowboys this season. Should Prescott struggle or suffer an unfortunate injury, he'll be right there at the drop of a hat. He just has to wait his turn, as he did for years before he became the starter in 2006.