James scores 35, Cavs take 3-0 lead with 115-94 victory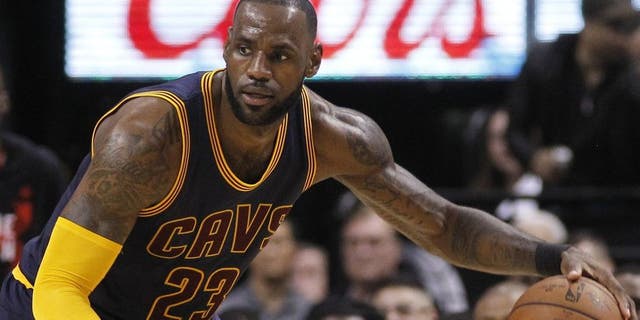 TORONTO (AP) -- Last year, LeBron James and the Cavaliers had their postseason win streak end in Canada.
This time, Cleveland came across the border and kept right on rolling.
James scored 35 points, Kevin Love had 16 points and 13 rebounds, and the Cavaliers pulled away in the fourth quarter to beat the Toronto Raptors 115-94 on Friday night and take a 3-0 lead in their second-round playoff series.
"We knew we were coming to a hostile environment, we knew they were going to give us everything they had, no matter who was in the lineup," James said. "We just had to weather the storm."
DeMar DeRozan scored 37 points and Jonas Valanciunas had 19 for the Raptors, who were without three-time All-Star Kyle Lowry. They trailed by only two after three quarters before the Cavaliers quickly blew open the game.
Game 4 is Sunday in Toronto.
"We don't need to be thinking about a sweep or getting rest, we need to be thinking about what we need to do to execute defensively and offensively coming into Sunday," James said.
With his team on the brink of elimination, Raptors coach Dwane Casey looked at Game 4 a little differently.
"Sunday's game is about pride," Casey said. "You don't want to get swept, especially in your home building."
That won't be easy against the Cavaliers, the first team since the Minneapolis Lakers in 1949 and 1950 to win their first seven playoff games in consecutive seasons.
Cleveland won 10 straight to begin the playoffs last year, a streak that ended when Toronto beat the Cavs in Games 3 and 4 of the Eastern Conference finals.
"We came in here (last year) and weren't prepared," Kyrie Irving said. "This year we understood what mindset we had to come in, especially in a rowdy arena like this."
Irving scored 16 points and Kyle Korver had 14 for the Cavaliers, who have posted three straight double-digit wins over Toronto. James had eight rebounds and seven assists.
"We were not giving up but they were better than us," Valanciunas said.
Norman Powell scored 13 points and Serge Ibaka had 12 for the Raptors, who shot a dismal 2 for 18 from 3-point range.
"Something we've done is knock down 3s all year," Casey said. "For whatever reason it's escaping us right now."
DeRozan said his team's long-range struggles were made even more "deflating" because Cleveland connected 13 times on 23 attempts from beyond the arc.
"It's tough to win a game when you only make two 3-pointers," DeRozan said.
Lowry sprained his left ankle in the third quarter of Game 2 and did not practice Thursday. He worked out a few hours before Friday's game and was on the court during warmups but hobbled back to the locker room before the anthems.
"He was limping badly," Casey said. "He just couldn't go. He wanted to. The doctors and trainers and medical people were just telling him he shouldn't try to go because he was in so much pain."
Cory Joseph started for Toronto.
Even without Lowry, the Raptors trailed 79-77 to begin the fourth, but Cleveland pulled away as Toronto missed 10 of its first 11 field goal attempts to begin the final quarter.
"Nothing could fall for us, especially at the start of that fourth quarter," said DeRozan, who had just one point in the final quarter.
With Toronto struggling, James hit four free throws on either side of a 3-pointer to put the Cavs up 97-80 with 6:20 left.
"That stretch right at the beginning of the fourth quarter is what got us," Casey said.
The Raptors missed their first 12 shots from 3-point range before Powell connected with 3:09 left in the third.
TIP-INS
Cavaliers: Tristan Thompson got in the face of Valanciunas after the Lithuanian center dragged James down to the court during a third-quarter skirmish. … Thompson had 12 rebounds. The Cavaliers outrebounded the Raptors 49-25.
Raptors: Joseph started for the first time in 70 playoff appearances. … Lowry is averaging 15.8 points and 5.9 assists in eight games this postseason.
LBJ BUMPS SHAQ
By shooting 9 for 16, James (2,047) passed Shaquille O'Neal (2,041) and took over third place for career postseason made field goals.
THREE OF A KIND
The Raptors have lost three straight for the first time since the All-Star break. Toronto lost three in a row from Feb. 8 to 14.
UP NEXT
Game 4 tips off at 3:30 p.m. EDT on Sunday.