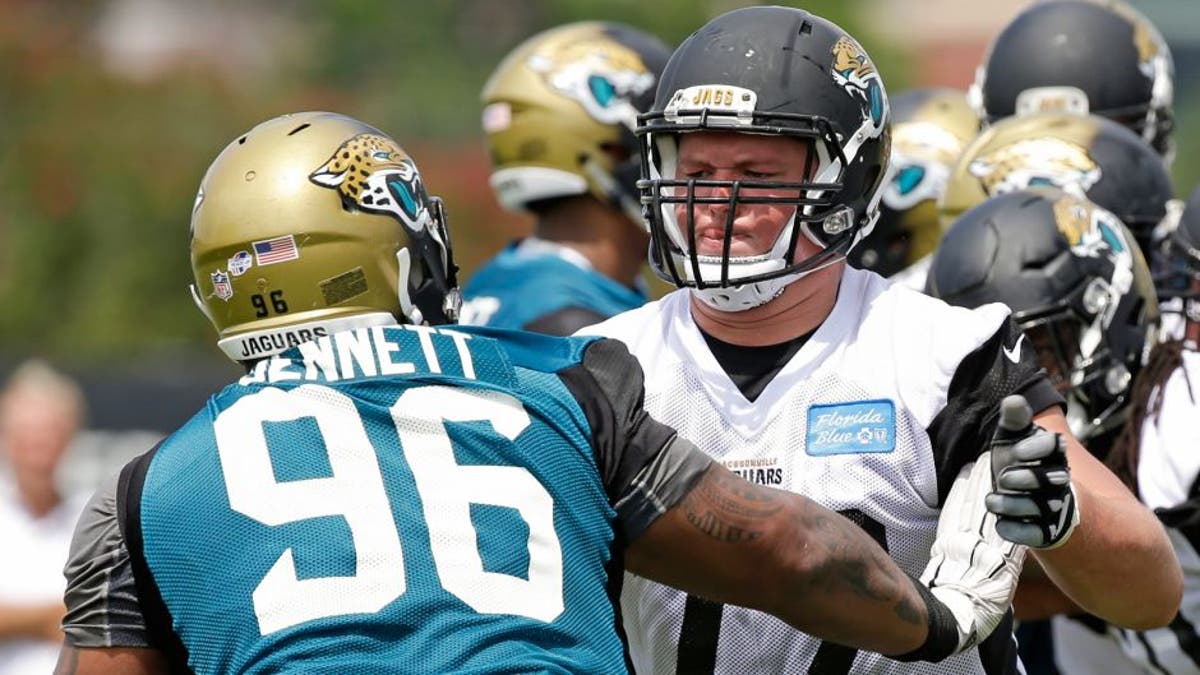 JACKSONVILLE, Fla. (AP) -- It's been a long and laborious building process for Jacksonville Jaguars general manager Dave Caldwell.
He revamped a mistake-filled roster from top to bottom. He jettisoned some players he probably should have kept. He brought in some guys he probably should have avoided.
Naturally, he second-guessed a number of decisions along the way.
But through it all -- the Jaguars are 7-25 in his two seasons at the helm -- Caldwell stuck to his three-year plan. He inherited a team with expansion-level talent, added three draft classes and took a big swing by spending about $180 million this year in free agency.
Now, a franchise that had few cornerstones when Caldwell took over in 2013 has what appears to be a fairly solid foundation.
"It's a really mentally tough team and coaching staff based off what they've gone through the last two years," Caldwell said Tuesday. "This is the best I've felt about our team, about our coaching staff, so I think it's really good."
Don't expect Caldwell to throw out any predictions for 2015, though.
He understands that although things seem to be turning in Jacksonville, which is an NFL-worst 14-50 over the last four seasons, there also are a number of questions heading into Year 3. The biggest one, of course, is whether Blake Bortles can be a difference-maker at quarterback.
"From where he's at now compared to where he came in last year as a rookie, I mean I think it's night and day," Caldwell said.
The third overall pick in the 2014 draft, Bortles was thrown into the starting lineup in Week 4 despite Caldwell's belief that he needed more time to develop.
He showed flashes here and there, most notably when he led a come-from-behind victory against the New York Giants in late November, but faded down the stretch amid arm fatigue and a foot injury. He finished with 11 touchdown passes, 17 interceptions and a whopping 55 sacks behind a line that featured two rookies and two second-year starters.
He worked with quarterback guru Tom House in California on his mechanics, and Caldwell liked the results.
"I see a huge difference, yeah," Caldwell said. "From the day he stepped on the practice field last year to the first day of training camp this year his ease of throwing motion, the tightness of his ball, the compact of his motion, the quicker release, the footwork, the balance. All those things I think are better. And just his overall presence. He's comfortable now. When you come in as a rookie, this time last year he was probably still trying to find a place to live."
Caldwell's top priority this offseason was upgrading the talent around Bortles.
He signed Pro Bowl tight end Julius Thomas, right tackle Jermey Parnell and veteran center Stefan Wisniewski in free agency. He drafted running back T.J. Yeldon (second round) and guard A.J. Cann (third). And he's counting on five second-year offensive players, including receivers Marqise Lee and Allen Robinson, to make huge strides.
"We've got our foot in the door a little bit as far as getting acclimated and understanding what we need to do," Lee said.
The Jaguars need to show progress on the field, especially early. They have lost 19 games by double digits over the last two seasons and are 1-15 in the first two months of the regular season.
Caldwell would like to call those growing pains, but that will only be the case if the Jaguars enjoy a little more success this season.
"We've all stuck together so it's made it survivable," Caldwell said. "We've had a lot of conviction in our vision and our belief of how we wanted to do this and the process that we haven't wavered from it. We're not stubborn about it, but we haven't wavered about it in terms of how we want to do it.
"It's been really challenging, but I think greater days are ahead for sure."