Jagr, 43, has point in all three Panthers goals in win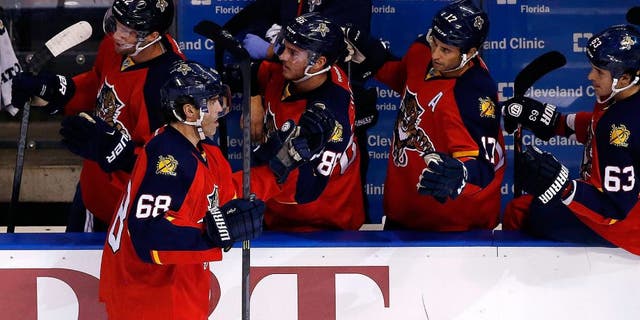 NEWYou can now listen to Fox News articles!
Only a dislodged section of glass was able to slow down Jaromir Jagr on Thursday night.
The 43-year-old scored twice in the first period and added an assist to lead the Florida Panthers to a 3-2 victory over the Buffalo Sabres. His hot start continued with his third and fourth goals of the season -- all at home -- as he continues to climb the leader board in scoring.
"Sometimes the puck goes in, sometimes it doesn't," Jagr said. "It doesn't matter what you do. I?learned that over 25 years. Right now the puck is going in, so I'm trying to shoot it."
Linemate Aleksander Barkov added a goal and an assist.
Rookie defenseman Jake McCabe scored for Buffalo on assists by Marcus Foligno and Nicolas Deslauriers. Tyler Ennis scored on assists from Ryan O'Reilly and Rasmus Ristolainen.
Florida goaltender Roberto Luongo made 24 saves for his 403rd career victory, tying him with Grant Fuhr for ninth in wins. He holds a seven-game winning streak over the Sabres (1-3-0).
Florida entered the game with 11 goals in their first three games - the best offensive start in team history.
As they did in their home opener, the Panthers relied on special teams early and late, taking advantage of a 5-on-3 power play less than eight minutes into the game after Buffalo's Mike Weber and Josh Gorges were sent off for minor penalties.
Barkov skated in from the left and lifted a pass over a sliding defenseman and through the crease. Jagr then connected with a one-timer past Buffalo goaltender Chad Johnson from the bottom of the right circle at 8:52.
It was the 205th power-play goal of Jagr's career, tying him for 13th place with Joe Sakic.
"That guy's a brick wall, very talented, and that's why he's still playing," Foligno said of Jagr. "You've got to take time and space away from that guy, but he's one of the best players for a reason.
A section of glass was dislodged by a check in Florida's zone with 2:53 left in the first period. Officials decided to send both clubs off for a full intermission while repairs were made.
Jagr returned after the break and again scored from the right circle with 2:26 left in the first.
His shot on the power play early in the third period was slapped past Johnson by Barkov on the rebound for his second goal at 4:24 to again give Florida a two-goal edge.
Florida coach Gerard Gallant said Jagr and the power play was crucial just as it was against Philadelphia in the home-opener when the Panthers scored three goals with the man-advantage.
"Yeah, he was good again tonight," Gallant said. "The power play moved the puck good and he buried a couple of chances there. He's playing real well."
Florida's top line impressed the Sabres, too.
"Their power play was clicking. Barkov, Huberdeau and Jagr line is a special line," Foligno said. "Unfortunately, they got the better of us tonight."
Added Johnson, who made 26 saves in the loss: "He shoots everything no matter where it is, and he finds ways. That's Jagr."
McCabe scored his first career goal when he tapped in a shot past Luongo at 7:10 to cut Florida's lead to 2-1.
"I was planning on, once he got that goal, that we'd be talking about it in a comeback-winning effort," said first-year Buffalo coach Dan Bylsma.
Ennis' power-play goal on a slapshot from above the right circle made it 3-2 12:35 into the third period.
Buffalo rookie forward Jack Eichel, returning to the arena for the first time since being picked No. 2 overall in the June draft, was held off the scoresheet.