Is Auburn a championship team? Muschamp offers his take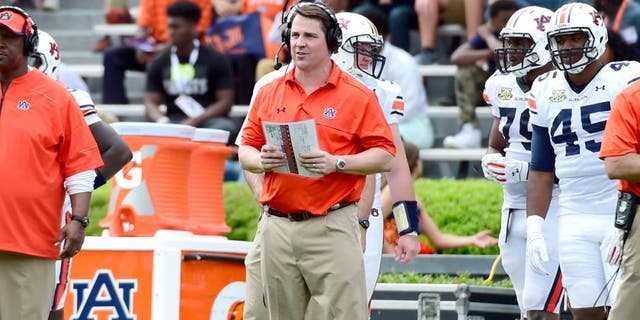 Auburn has been one of the most hyped teams all offseason, with some predicting the Tigers to end up in the second edition of the College Football Playoff.
If they're to actually achieve that level of success, the defense will have to improve after a poor 2014 performance (the expectation is that it will, perhaps significantly under new coordinator Will Muschamp) and the offense will have to fill some sizable holes (particularly at quarterback, where Jeremy Johnson takes over for Nick Marshall). Keep in mind that Auburn went just 8-5 last year and returns 12 starters, at most.
With that in mind, Muschamp was asked this week if he believes Auburn has a championship-level team. His response: We won't know until the bodies start colliding and the players face real adversity for the first time.
"It's a one-score game in the fourth quarter, and you find out how a team responds. Your team gets down by 14 points in the first game, and you find out how your team responds," Muschamp told the media on Sunday. "Whatever happens during the year, you build that through the year. That's not something you see in fall camp, other than the camaraderie of your football team, the work ethic and the approach. Those moments in a season define that kind of season for you. We'll see what happens."