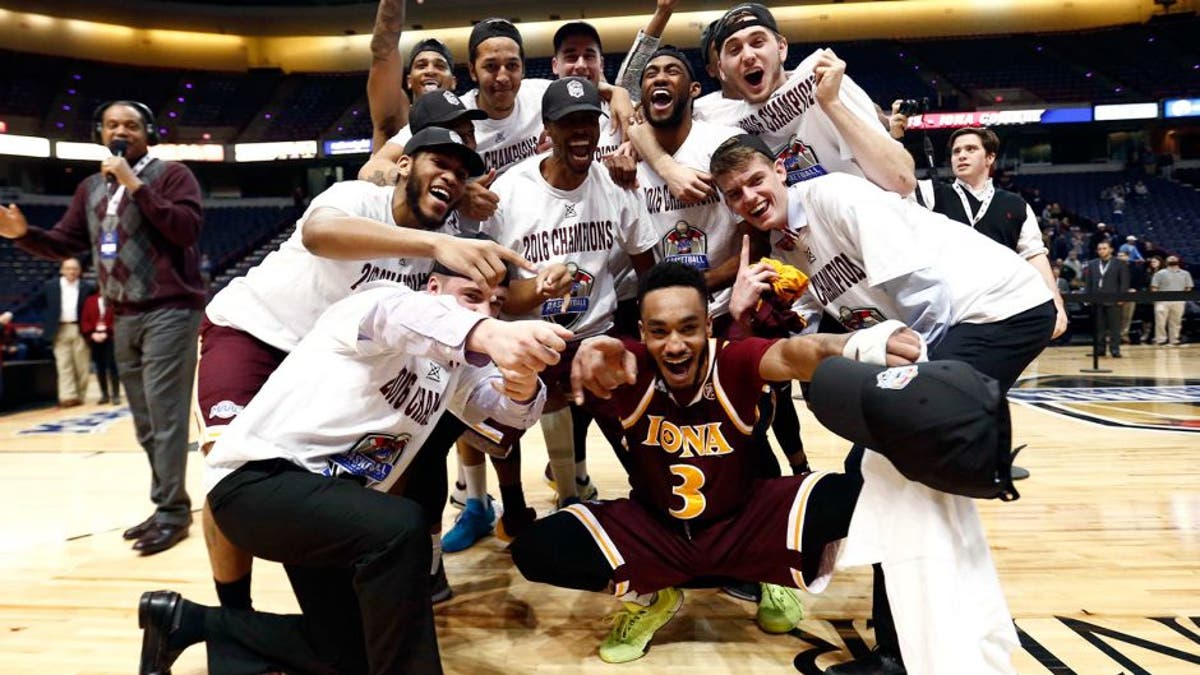 ALBANY, N.Y. -- A.J. English hit a fadeway jumper with 1:39 left to break a tie and Deyshonee Much followed with a driving layup that he converted into a three-point play, and second-seeded Iona beat top-seeded Monmouth 79-76 on Monday night to win the Metro Atlantic Athletic Conference tournament title and the NCAA Tournament berth that goes with it.
The Hawks (27-7), who joined the MAAC in 2013, were seeking their first tournament appearance since 2006 when they were members of the Northeast Conference. They entered the title game on a five-game winning streak and had won 13 of 14 in a storybook season, the lone loss coming at Iona (22-10).
With a solid resume, the Hawks are still in the running for an at-large bid and the MAAC has twice had multiple bids (1995, 2012).
The game came down to the final moments. A 3-pointer from the right corner by Much gave Iona a 66-65 lead with 4:44 left before Josh James tied it at 67 with a pretty spin move through the lane. But he was called for a technical after gesturing and yelling at the Gaels, and English sank both free throws.
A tip-in by Jordan Washington gave Iona a 71-67 lead before a pair of free throws by Micah Seaborn narrowed the gap to 71-69 at 3:24. Two more free throws by Justin Robinson tied it at 71-all.
Monmouth made a gallant try in the final minute, forcing a turnover when Much was called for a foul while the Hawks were pressing. Deon Jones sank both free throws to make it a one-point game, but Aaron Rountree calmly made two for the Gaels with 17.3 seconds left and the Hawks couldn't get a shot in the final seconds.
Before Monday, Monmouth was 21-0 when leading at the break.
English, named tournament MVP, led Iona with 19 points, Isaiah Williams had 17, and Washington and Much each had 15.
Je'lon Hornbeak paced Monmouth with 20 points, Robinson had 12 and Seaborn 10.
The Monmouth bench mob has made a name for itself this year as the players have come up with one-of-a-kind celebrations during games. They celebrated a lot again on Monday, until the end.
Monmouth had to keep close watch on English, who averaged 38 points, four assists, 5.5 rebounds and 5.5 3-pointers against the Hawks in the regular season and was coming off a 29-point effort in an 11-point win over Siena in Sunday's semifinals.
English struggled mightily in the opening half, going 1 for 7 -- with all but one of the shots from beyond the arc. But Robinson, his counterpart on the Hawks, didn't score until hitting a pull-up jumper with 4.6 seconds left to give Monmouth a 34-30 halftime lead.
The Hawks closed the first half with a 19-7 spurt to gain its first lead as Hornbeak and Seaborn each hit a pair of 3-pointers to help erase an eight-point deficit.
The teams split in the regular season, each winning at home.
In the first meeting, Monmouth managed a 110-102 victory to establish itself as the team to beat in the conference. The Hawks overcame 45 points from English, who repeatedly taunted the opposing bench after made shots in the first half.
Words were exchanged at some point during the postgame handshake line, and Iona's Washington slapped the face of Monmouth big man Chris Brady.
TIP-INS:
Iona: The Gaels have a league-record nine titles and were the second seed for the sixth time. They had won two of their previous MAAC titles as the second seed and were 1-0 against Monmouth in the MAAC tournament. ... Coach Tim Cluess moved into second place all-time with 140 wins, one more than Jeff Ruland. Jim McDermott won 319 from 1948-73. ... Entering the game, English was 43 points shy of becoming the third player in school history to score 2,000. ... Since winning the MAAC title in 2013, Iona had lost two straight MAAC championship games to Manhattan.
Monmouth: The Hawks were one of the surprise teams nationally during the regular season. In nonconference play they defeated UCLA, Notre Dame, Southern Cal, Georgetown and Rutgers. ... Robinson entered the game with 650 points and needed 13 to match Alex Blackwell's school record set in 1990-91. ... Monmouth's last loss was at Iona on Feb. 19. ... Fifth-year coach King Rice won MAAC coach of the year.
DEJA VU: It was a deja vu moment for English. A year ago, he hit 13 of 20 from beyond the arc in Iona's first two games of the 2015 MAAC tournament, including 7 for 10 against the Hawks in the semis. He was a non-factor in the second half of the championship game loss to Manhattan, though, failing to score and attempting only three shots in scoring just 10 points in the game. After going 10 for 20 from long range in the first two games of this year's tournament, English missed his first four shots on Monday night.
UP NEXT:
Iona: NCAA Tournament.
Monmouth: Await an at-large bid to the NCAA Tournament