Indians owner Paul Dolan looking for minority investor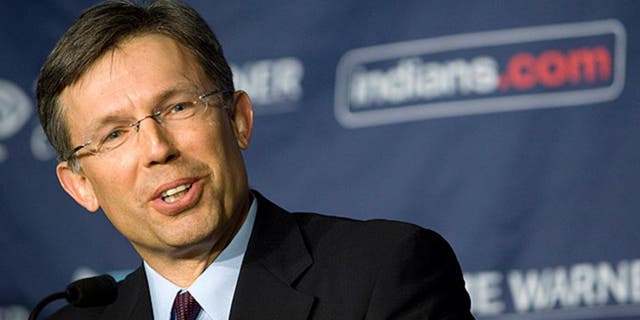 CLEVELAND (AP) -- Indians owner Paul Dolan is looking for a minority investment partner for his franchise.
He may need a new team president as well.
Dolan, who has had primary control of the Indians since 2013, hired a New York-based investment broker several months ago to help him find a minority owner for the ballclub, which has struggled to stay competitive in a sport without a salary cap in a city still recovering from job losses and a dwindling population.
Dolan secured Allen & Co. to search for a minority owner, a team spokesman confirmed Sunday. The New York Post first reported the deal on Saturday.
The Dolan family bought the Indians in 1999 from Richard Jacobs for $322 million. The Indians, who haven't won the World Series since 1948, have had one of the lowest payrolls in the majors and attendance at Progressive Field has dropped dramatically in the past few seasons.
Dolan has made it clear on several occasions that he has no interest in selling his majority controlling interest in the Indians. But his retention of the investment broker is the most significant step yet in his intent to obtain outside revenue and resources. The Indians have made the postseason three times -- 2001, 2007 and 2013 -- under Dolan's ownership.
Meanwhile, team president Mark Shapiro may be leaving the team for a similar role with the Toronto Blue Jays. A decision could be announced as early as Monday.
Shapiro, who has been with the Indians since 1992, served as the club's general manager from 2001-10 before he was promoted to president. The 47-year-old Shapiro has been a steady hand for Cleveland's organization, guiding it around financial obstacles while overseeing the renovation of Progressive Field.
The Blue Jays have major plans to overhaul Rogers Centre, and Shapiro could be intrigued by that challenge as well as joining a team that has overhauled its roster this season with trades and signings.
Shapiro is considered one of baseball's top executives and has served on MLB's competition committee.
The Blue Jays will be looking for a new team president this offseason, when current CEO, Paul Beeston, is expected to retire. Shapiro has not commented on speculation about his candidacy with Toronto.
However, Indians manager Terry Francona said Friday he would not use an "opt-out" clause in his contract if Shapiro leaves. Francona joined the Indians in 2013, taking the job after a year off partly because of his close relationship with Shapiro and Indians general manager Chris Antonetti.
Francona's contract includes a clause that allows him to opt out should Cleveland's front office get restructured. Francona is signed through the 2018 season with the Indians holding options in 2019 and 2020.
"If Mark's not here, there's a time I guess to talk about that, but I think part of maybe one of the reasons Mark maybe would even think about leaving is because I think he's confident that things are in place the way we have worked so hard to do it," Francona said. "I have no intention of ever using something like that as leverage for another job, because I don't want to."