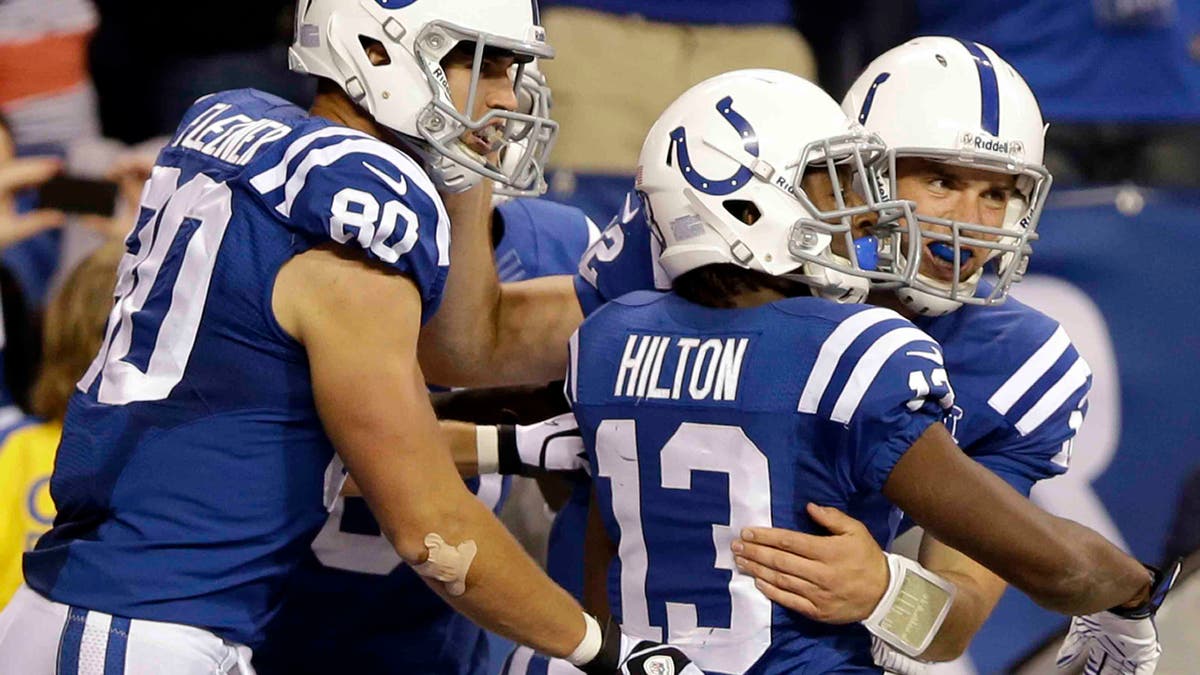 INDIANAPOLIS – Andrew Luck stays confident and calm around his teammates.
Players and coaches see it in the huddle every day at practice and even when things look especially bleak for the Colts on game days. Teammates typically respond by digging down, digging in and overcoming the long odds.
Indianapolis knew exactly what it was doing when it selected Luck ahead of Robert Griffin III in the 2012 draft, adding the most polished college quarterback since Peyton Manning to a locker room full of blue-collar veterans who didn't have the patience to rebuild. They wanted to win right away, and the addition of Luck has turned them into the Comeback Colts.
"We have a young team that bought in completely and sold out for a cause, so, honestly, we don't know any better," NFL sacks leader Robert Mathis said Wednesday when asked why Indianapolis has been so resilient over the last two seasons. "We just keep swinging and, hopefully, you get that knockout punch."
Lately, nobody has done a better job of landing late jabs than Luck & Co.
In 24 regular-season games, Luck has produced 10 game-winning drives in the fourth quarter — more than any NFL player in his first two seasons since 1970 and he still has eight games to add to that total. He is 24.
Indy (6-2) has continued to win despite losing coach Chuck Pagano for 12 games because of leukemia last year, despite opening this season with low outside expectations and despite their divorce with Manning, making a seamless transition from one comeback artist to another.
Most teams spend years trying to find the right combinations and the right replacements, but the Colts did it almost instantaneously.
"If coach didn't use his situation as an excuse last year, what do we have to lean on to not get the job done this year?" Mathis said.
The Colts have already beaten two of the NFC favorites, handing Seattle and Denver their only losses. They've come from behind in three of those wins, too. Last season, their nine-win turnaround matched the second-best in league history and their improbable run into the playoffs gave Indy 11 postseason appearances in 12 years.
But it's the Colts' propensity for late-game comebacks that has garnered the most attention.
The run began in early October 2012 when Indy erased an 18-point halftime deficit against Green Bay to win one for Pagano, who was undergoing chemotherapy at a nearby hospital. Three weeks later, Luck did it again at Tennessee, driving the Colts to a tying score with 3:24 left in regulation and then giving Indy its only lead when Vick Ballard scored a diving, twisting touchdown in overtime. Then at Detroit in December, Luck led the Colts to two touchdowns in the final 2:39 including the 14-yard TD pass to Donnie Avery as time expired.
It's been more of the same this year.
After scoring the final 11 points to beat Seattle 34-28 on Oct. 6, Luck went back to work Sunday night, throwing three TD passes to T.Y. Hilton in an 11-minute span to turn a 24-6 deficit into a 27-24 victory at Houston.
The victory put Indy in firm control of the AFC South with a two-game lead over Tennessee, a four-game lead over the Texans and a 2-0 record in division games — both on the road.
"We've got a great group of older guys who have figured it out and some superstars who don't act like it," said Adam Vinatieri, owner of four Super Bowl rings. "It does feel different because the young guys are stepping up and keeping us rolling."
This year's push may even be more surprising than last season, given the injury situation.
Indy lost Ballard, the starting running back, to a knee injury and starting tight end Dwayne Allen to a hip injury for the season after the season opener. In Week 2, left guard Donald Thomas was lost for the season with a quad injury. Ahmad Bradshaw, Ballard's replacement, went down with a season-ending neck injury in Week 3, and Pro Bowl receiver Reggie Wayne is gone with a torn ACL.
Yet in their first game in 15 years without either Wayne or Marvin Harrison on the field, the Colts still won.
"I just think the mindset that we tried to create from Day 1, they've all bought into," Pagano said. "It all started when we first got here with guys like Robert and Reggie and Antoine (Bethea) and Adam and those veteran leaders kind of led the charge and didn't waver on what we were going to try to get done and how we were going to try get it done."
As long as Luck sticks around, the Colts don't expect their comeback personality to change.
"He (Luck) is a winner. He always comes to the huddle and has that mentality that he's always going to fight for us, and we're going to fight for him," right tackle Gosder Cherilus said. "We know Andrew is extremely competitive and he brings it every single day."
___
Online: http://pro32.ap.org/