Illinois leads late but can't hold off Oregon's surge and No. 15 Ducks rally for 71-64 win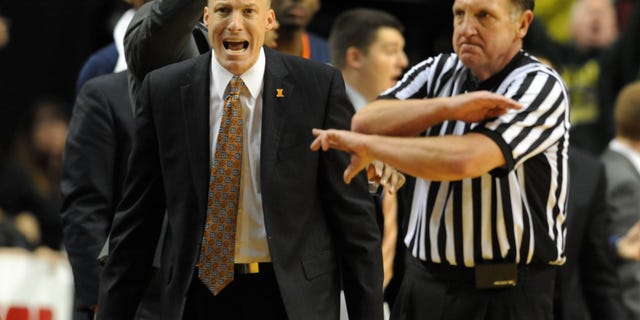 PORTLAND, Ore. – Illinois gave Oregon its best shot and had an opportunity to knock the 15th-ranked Ducks from the ranks of the unbeaten Saturday night.
The Fighting Illini led by nine points on a neutral court with 13 minutes to play before the Ducks rallied for a 71-64 victory before crowd of 10,043 at the Moda Center to improve to 9-0.
After Nnanna Egwu's 3-pointer from the top of the arc put Illinois (9-2) in front 59-58, the Ducks went on a 13-5 run over the closing 3:10, putting the game away on Johnathan Loyd's two free throws with 16.1 seconds remaining.
"I thought we were really competitive," Illinois coach John Groce said. "I'm proud of my guys that they were able to concentrate and execute and try to take away what we tried to take away, but . Oregon is very good offensively, they put their players in very good position to be successful, and they were very difficult to defend."
Illinois junior guards Tracy Abrams and Rayvonte Rice led all scorers with 16 points each, and Jon Ekey added 10 points and eight rebounds for the Illini.
Oregon's Mike Moser and Joseph Young scored 14 points each to pace five players in double figures for the Ducks, who shot 55.8 percent from the field and had a 30-27 edge in rebounds.
Tied at 32-32, the Illini opened the second half on an 18-9 run, taking their largest lead of the game when Abrams found Rice alone under the basket for a layup that made it 50-41 with 13:13 to play.
Illinois led 54-47 after Joseph Bertrand's dunk, but Groce said he started to feel the momentum shift in Oregon's direction.
"I thought we got a little tentative," Groce said. "Oregon called that timeout (with 8:13 to play) and they came out and I thought they imposed their will on the offensive end by driving the ball."
With Oregon trailing 59-58, Elgin Cook scored the go-ahead basket on a layup and Moser added a 3-pointer that pushed the lead to 63-59 with 2:36 remaining. The Ducks maintained at least a three-point margin the rest of the way.
"We didn't quite respond as well as I'd like there, but we'll work on that," Groce said. I told those guys, 'We're awful close. Man, we were right there against a really, really, really good ball club.' I learned a lot about my team tonight. I'm excited about where we're going."
Asked to put his finger on where Illinois fell short, Abrams said he couldn't.
"I don't feel like there's anything in particular," Abrams, who also had five assists and one steal. "We came into the game with this mindset that we were going to win. Not one time did we think we'd lose."