I'll Have Another & The Belmont: Hopes Dashed Again for The Triple Crown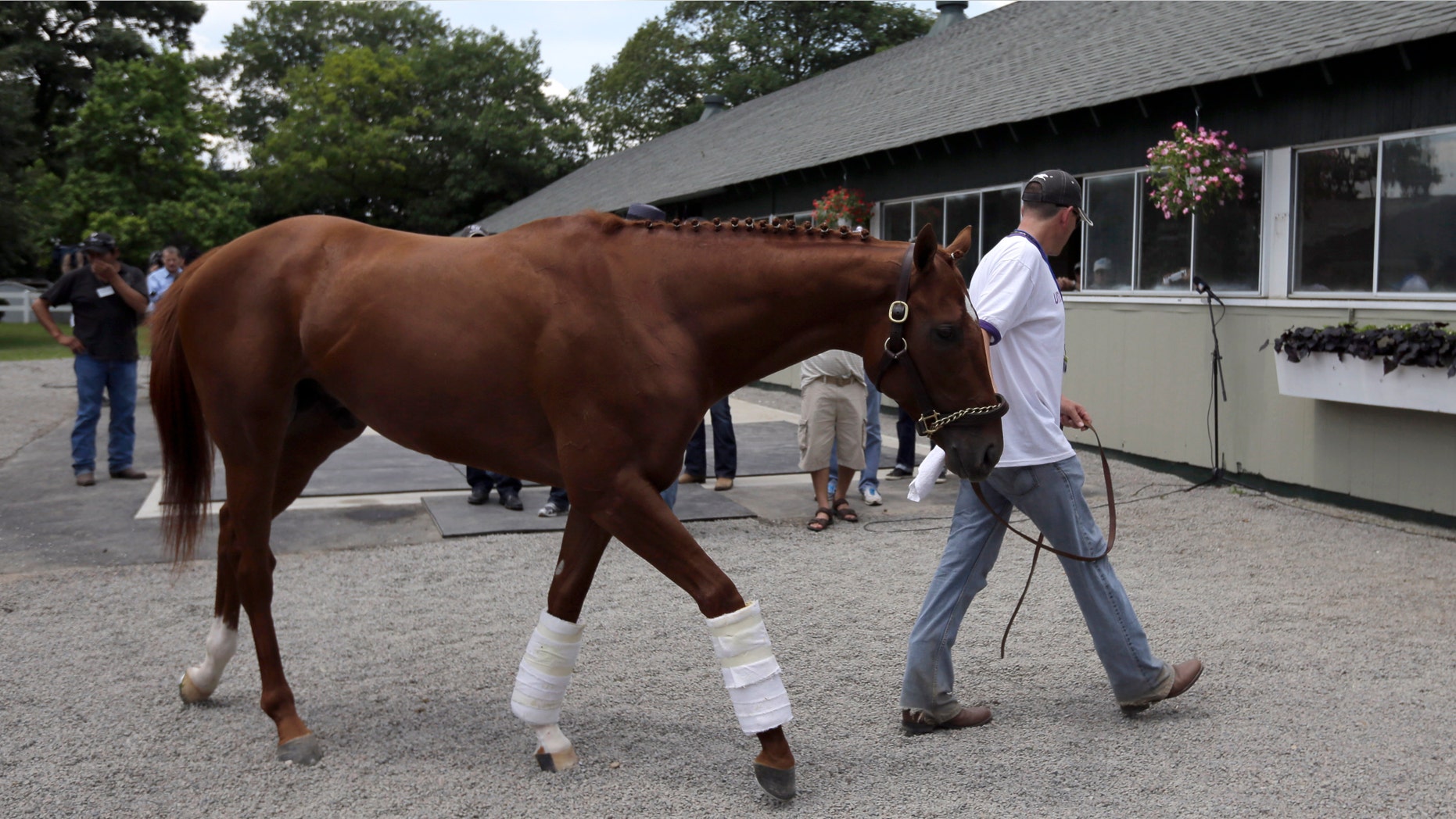 I'll Have Another went from the verge of horse racing history to soon-to-be trivia fact. Hopes of witnessing the first Triple Crown in 34 years were dashed as the three-year-old colt was scratched from Saturday's Belmont Stakes.
It was an unfortunate turn of events in a captivating story. I'll Have Another and his jockey, Mario Gutiérrez, had injected some much-needed interest into horse racing in 2012. But now the Belmont favorite's Triple Crown hopes – and racing career – are over after developing tendonitis.
This year's Kentucky Derby and Preakness winner becomes the 22nd horse to win the first two jewels of the Triple Crown only to fall short in June. He is just the third to pull out of the Belmont due to injury. No horse has won horse racing's ultimate trifecta since Affirmed in 1978.
I'll Have Another serves as another reminder of just how seemingly impossible winning horse racing's Triple Crown has become.
Perhaps comparisons could be made to Joe DiMaggio's 56-game hitting streak or Ted Williams hitting .406 in baseball...Those are feats we may never see again in that sport.
"Perhaps comparisons could be made to Joe DiMaggio's 56-game hitting streak or
Ted Williams hitting .406 in baseball," said Cindy Pierson Dulay, the About.com horse racing guide. "Those are feats we may never see again in that sport."
The Kentucky Derby, she explains, is comparable to the Super Bowl or World Series. It plays out every year, and there's always a winner. The Triple Crown "is something much rarer."
Talk to some horse racing experts about the Triple Crown, and you'll hear one word come up again and again: elusive. Since the first Kentucky Derby in 1875, there have only been 11 horses to win the Derby, the Preakness and the Belmont Stakes.
To take it all, three-year-old thoroughbreds must win the three longest races of their careers in three different states between the first Saturday in May and early June.
"This is physically grueling, and most horses don't stay healthy long enough to compete in all three, much less win all three," Dulay said on Thursday evening, comments which would prove to be especially poignant. "It is kind of like having a person run three marathons over a short time period.  They get exhausted or they get injured and just can't finish the series."
Injuries aside, the three-part challenge has become even more difficult over the last few decades.
"What makes it tougher than ever is that we have so many fresh horses coming into the Belmont trying to knock off anybody with a shot of winning the Triple Crown," said Mike Willman, director of publicity for Santa Anita Park. "Thirty or forty years ago, it would have been unthinkable to have a horse in the [Kentucky] Derby that didn't run in Preakness and the Belmont."
Now, it's almost becoming a norm for Derby also-rans to skip the Preakness only to return for the Belmont. It is no surprise that a horse who has run one less race will often have an edge.  
Then, Willman added, there's the fact that the other jockeys are often, well, jockeying to hold off the favorite at the Belmont.
And there are no second chances, no encouraging "wait until next year." The Derby, Preakness and Belmont are open only to three-year-old horses.
"There's been a lot of different factors," Willman said. "[Horses] that deserved to win the Belmont, but didn't get it done. But that's the way it is."
I'll Have Another serves as one more example of those factors, factors that add up to a more than three-decade long Triple Crown drought.