HScott Motorsports making best of bad situation after hauler fire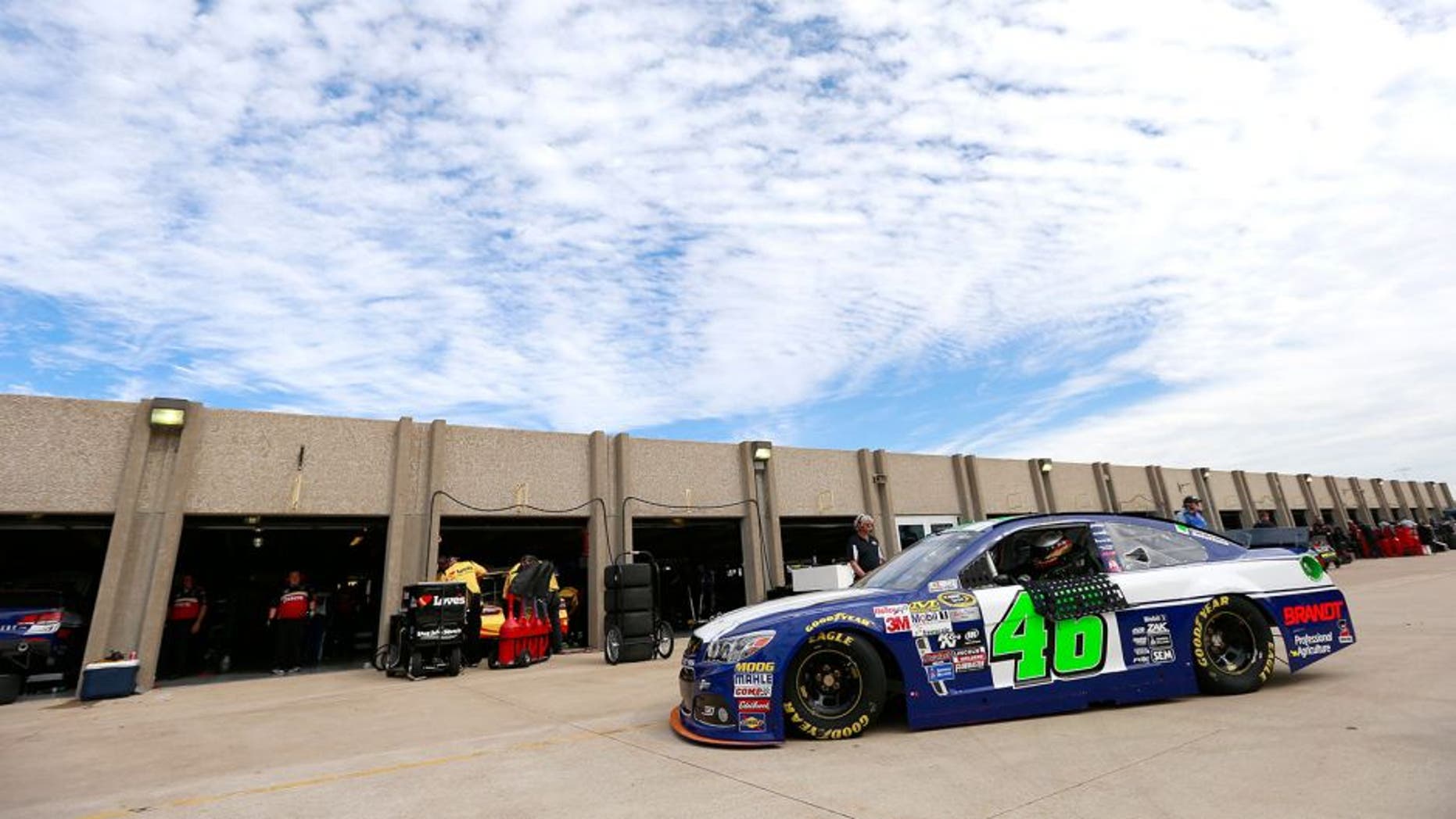 When a car hits the racetrack there are a host of things that can ruin a team's day. However, for HScott Motorsports it was the trip to the track that caused a major issue on the way to Texas Motor Speedway for this weekend.
The team's No. 46 hauler carrying Michael Annett's cars and equipment caught on fire while driving along Interstate 20 in Longview, Texas on Thursday afternoon. The fire consumed much of the hauler, causing a significant amount of damage and putting the team in a difficult spot as they scrambled to find a way to field two cars this weekend.
Jay Guy, crew chief on the No. 46 team, told FOXSports.com a woman called the team's race shop and told them the hauler was on smoking as it went down the road. The shop called Guy and informed him of the situation, and he quickly got in touch with the hauler drivers, who were in the process of pulling over to assess the situation.
Once the hauler drivers began sending pictures of the damage, Guy knew it was very serious and they had to get to work figuring out a plan.
"We're trying to finish the season on a strong note, and we put a lot of time and effort into this, and that's why we weren't running with the 51 (hauler)," said Guy. "We were loading later, trying to be more prepared, just going through everything one last time, making sure it was right, and putting our Phoenix parts on the truck.
"You had a game plan for that and about 1:30 p.m. yesterday afternoon it changes. Then you're trying to figure out what's going to happen, because there's so much stuff and when you're not on-site, you don't really know what the damage is."
According to initial reports from the fire marshals, the fire likely started near the stairs leading up to the coach, underneath the drink cooler. Guy said the generator was not running and he believes something electrical may have shorted out.
The two-car organization is now working out of one hauler this weekend, with Annett driving Justin Allgaier's backup car with an engine from Kurt Busch's No. 41 Stewart-Haas Racing hauler. Things have not been easy for this team, but they're certainly making the most of it.
"A lot of phone calls," that is how Steve Addington, crew chief for Allgaier, described the last 24 hours. "I was in contact with Jay. I was letting Hendrick Motorsports know. Scotty Maxim handles all the engine stuff and I was letting him know what the losses were there and what we were up against this morning and last night. They made the phone calls to get an engine off the 41 truck."
The team worked with NASCAR to have the two cars parked next to each other in the garage area so they could share tools throughout the weekend.
"It was cool to see everybody pulling together," said Addington. "The only problem was when we're all in there trying to work out of the same tool box during practice. I was ready to hit somebody. Other than that, everybody did a great job and understood the circumstances, pulled together and got the job done."
Both Addington and Guy credit Hendrick Motorsports for helping make a bad situation a little bit better.
"The guys at Hendrick, they've been nothing short of fantastic," said Guy. "All the guys have pulled together and we did what we had to do."
The team was at the track until about 1 a.m. Friday morning changing Allgaier's backup car into Annett's primary car, getting engines changed and doing everything the needed to do to get ready for Friday's practice and qualifying sessions.
The hauler is currently stored in a salvage yard and the team has yet to determine the total damage done and what exactly was lost.
"We haven't put a number on anything yet," Addington said of the total losses. "We've got a general idea of what's insured and what's not, just knowing what we can salvage out of it and just sitting down and making a list of everything."
Addington said on Saturday Hendrick Motorsports is bringing steering boxes and fuel cans on one of their haulers, since the team's was lost in the fire. Also lost were the shocks and springs for next week's race at Phoenix International Raceway. The team was planning on swapping out cars after Sunday's race, to save a trip back to the Spartanburg, S.C., shop.
For Guy, the parts and pieces lost have made the weekend more difficult than originally planned, but he sees the bigger picture in all of it.
"It's unfortunate, but those things happen," said Guy. "Nobody was hurt, and that's the best thing. Race cars can be replaced. It's inconvenient as all can be, but it's something you just have to deal with.
"The list of people you need to thank for helping you out is so long you can't thank them all. NASCAR, the teams, just so many people have helped out, and it's been good so far."