How the new redshirt proposal could save college bowl games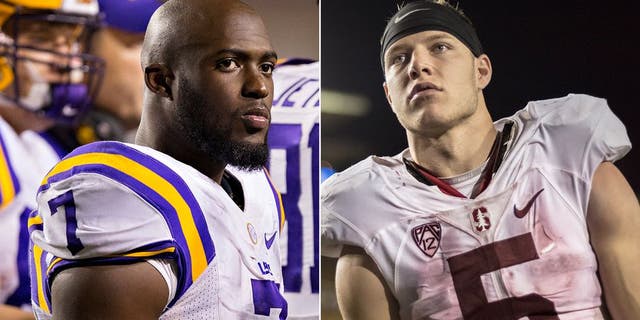 In the wake of running backs Leonard Fournette and Christian McCaffrey being selected among the top eight picks of last month's NFL Draft, it's now inevitable that more and more high-round prospects will start skipping their last bowl game to avoid injuries. Which is completely understandable, but at the same time foreboding for some 37 non-playoff bowls already suffering from lost luster.
Back in December, one of my Mailbag readers proposed an intriguing idea to renew interest in some of the non-playoff bowl games: Allow teams to play their redshirted freshmen. I loved it, and I've since seen others suggest the same.
It turns out, months later, there's already a rules change in the works that would allow that very thing albeit for reasons far beyond players skipping bowl games.
Troy Taormina/Troy Taormina-USA TODAY Sports
The American Football Coaches Association is forwarding a proposal to the NCAA that would allow players to participate in up to four games of a season without burning their redshirt year. If passed, theoretically, a coach could unleash his touted four-star freshman running back in the TaxSlayer Bowl.
"I think that would be pretty intriguing to some of the fan bases," said AFCA executive director Todd Berry, "which might legitimize some of those bowl games and make them more interesting.
Following the AFCA's board meetings last week in Phoenix, Berry said that while McCaffrey and Fournette made headlines, players shutting it down before a lower-tier bowl game is "not a new thing." While those particular stars dealt with legitimate health issues last season, others in the past might develop a "magic injury" right before the bowl.
In many cases, the freshmen redshirting are far more excited to be there than the graduating seniors.
"One could argue that [playing redshirts] is not what the bowl games are for," said Berry. "Well, it is now. We lost this idea that every bowl game mattered a long time ago."
But bowl games aren't the primary impetus behind Berry's proposal, one he says garnered "unanimous" support at the AFCA's convention last January.
With the season getting ever-longer (15 games for the two teams that reach the national championship) and the average number of plays per game ever-increasing, coaches often see their teams decimated by injuries at a certain position. At which point they may face the desperation decision of lifting a guy's redshirt late in the season and thus burning an entire year of eligibility.
Last season, Ole Miss did that with touted freshman quarterback Shea Patterson when starter Chad Kelly went down in early November. Since the Rebels missed a bowl game, Patterson's freshman season consisted of three games.
Elsewhere, West Virginia coach Dana Holgorsen had to play freshman Martell Pettaway for the first time in the Mountaineers' second-to-last regular season game against Iowa State after his top three running backs got hurt. Pettaway burst for 181 yards that day, but once everybody returned he garnered just three carries in the Russell Athletic Bowl. Thus became his freshman season.
"We really haven't addressed the redshirt rule in quite some time," Holgorsen said after commissioner Bob Bowlsby briefed coaches on the proposal at last week's Big 12 meetings. "We're playing way more games than we used to there used to be a 10-game season. They're looking at it, and I would support it."
Brendan Maloney/Brendan Maloney-USA TODAY Sports
The AFCA's proposal falls somewhere between the current "five years to play four" model and that of those like Florida State's Jimbo Fisher who've advocated for simply giving guys five years of eligibility. Players would have to be members of the team at the start of the season; December enrollees could not come in and immediately suit up for the bowl game.
The rule would eliminate the need for injured players to apply for "medical redshirts." Advocates believe allowing redshirts on the field for a few games could also help prevent injuries by allowing their main contributors more rest.
"It benefits everybody on the team," said Northwestern coach Pat Fitzgerald. "If I can get [star running back] Justin Jackson off the field for 20 plays a game, that's 240 in a season where we're able to get him some rest. It's going to benefit him in the short term, and it's going to benefit his NFL career."
Mark Dolejs/Mark Dolejs-USA TODAY Sports
Even given the option, coaches wouldn't necessarily rush to put their entire freshman class on the field. Many simply aren't ready, even by season's end. Which Holgorsen offers as another reason why the proposal makes sense.
"If you think the kid is ready to play, and he goes out there in September but he's scared to death, goes out there and plays two series and s -- - down his leg, now you're stuck with him, and the kid's screwed. He may not play the rest of the year and he's burned that year."
Fitzgerald likes the idea of using that carrot "You get to play four games, but you've got to earn it" as a motivator. And Berry said studies show players perform better academically the more engaged they feel with the team.
Caylor Arnold/Caylor Arnold-USA TODAY Sports
"If you've got a young man who's really working hard but he's not ready for primetime yet, but his parents are there in the stands and you've got a game that is under control and you want to put him in for a few snaps I think that's great," said Berry. "To me, everything about this discussion is a net positive for the student-athlete and a net positive for college football."
And yet, this is the first time Berry has sensed any traction for a proposal he said he first began pushing nearly a decade ago. The former Army (2000-03) and Louisiana-Monroe (2010-15) coach became the AFCA's full-time executive director just last year.
But first, it must go through the NCAA's exhaustive legislative cycle.
First up, the newly formed Division I Football Competition Committee, chaired by Arizona State AD Ray Anderson, will discuss the proposal at its May 16 meeting. If they're on board, they forward the proposal to Division I's Football Oversight Committee, chaired by Bowlsby. That committee could then formally sponsor legislation to be considered by the larger Division I Council, with the possibility of going up for vote at January's NCAA convention.
By then, we will have gone through another bowl season and found out just how widespread the skipping-bowls option has become and whether treating them as a pseudo-audition for next season just might renew fans' interest.
*Bruce Feldman contributed reporting.