How Minnesota Vikings can beat Green Bay Packers and take control of NFC North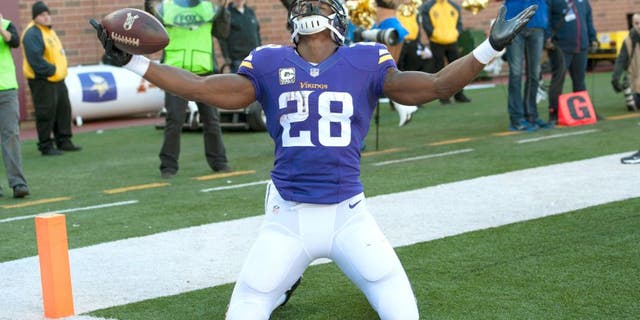 As I studied the film of the Vikings in preparation for their big divisional matchup with the reeling Green Bay Packers, I was forced to abandon a lot of the preseason assumptions of what the Vikes would be.
I thought the return of star running back Adrian Peterson would make rising star quarterback Teddy Bridgewater a better quarterback by osmosis. A year ago the Vikings had a scant running game and Bridgewater had to shoulder much of the offensive weight. Teams would presumably now pack the box against Peterson and Bridgewater would have a weekly field day, picking apart over-committing defenses in play action bliss.
That hasn't been the case.
I also thought the return of Peterson would provide the perfect complement for players to shine on a roster filled with players who aren't as proficient in the technical aspects of the game but with monster big-play upside -- like receivers Mike Wallace and Cordarrelle Patterson and tight end Kyle Rudolph.
That hasn't been the case either, with the three ranging from modest-to-no roles in the Vikings offense.
I'm not surprised Minnesota is 7-2. I'm not surprised Peterson is leading the NFL in rushing by over 200 yards. Based off those two facts alone, the assumption would be the Minnesota Vikings are winning games with a strong running game.
But that's not really the case, either.
It's not as simple as saying "stop the Vikings' run game and you win." The key to beating the Vikings is to not beat yourself with turnovers, blown coverages, mental errors, poor run fits and the like.
It takes a day of smart, relatively mistake-free football to beat this particular Vikings team, the kind of game the Packers haven't played in nearly a month.
THE PETERSON FACTOR
The Vikings are an offensive enigma. They're a tough team that plays well when they absolutely have to. They're resourceful and generally don't make mistakes to handicap themselves. Bridgewater has had only one game this season with multiple turnovers (two INTs against the Chiefs) and the Vikings still won.
They've shown an uncanny knack to do the little things in critical moments to win games. But in review of these wins, they've never really been great at any one thing. Losing to the Vikings is a frustrating thing because in review there's rarely a single thing a team can put their finger on that cost them the game.
They beat you, and you're really not sure exactly how.
Statistically, the Vikings have the best running game in the NFL, but they're far from the best running team in football (save from on paper). The Vikings have been particularly consistent throughout the season in sporting very average days on the ground that get spiked by a single huge run, blowing the yards-per-attempt through the roof. This is not a team that can be understood through the box score.
In the table below, you can see several examples of these singular big plays from Peterson and how they spike mediocre-to-solid days into deceiving stat days.
Most recently, Peterson capped a solid day against the Raiders -- where the Vikings did just enough to win -- with an 80-yard touchdown run after an Oakland basically locked up the win for Minnesota.
The long touchdown run followed, serving the purpose of an impressive exclamation point and a nice boost to fantasy owners, but ostensibly the game had already been decided.
The Vikings are a tough egg to crack, considering they're second in the NFL in total field goals made and have attempted a league-leading 17 field goals from 39 yards or less. Considering a field goal in the NFL is usually preceded by an offensive disappointment of sorts, this is one of those stats that simultaneously reflects the Vikings toughness and their inability to finish drives in the manner you'd expect from a team with a nice 7-2 record.
They follow those field goals with great defense. That's not sexy, but that's who the Vikings are.
SO HOW DO THEY DO IT?
The Packers offensive coaches have the unenviable position of trying to figure out how to game plan against a hot team whose best player can be slowed, but not to the point where it will straight-line affect wins or losses.
On our Patriots teams of the early 2000s, this is something opponents would say week after week about us -- there was no particular player to take away as a bonafide key to the game.
Much like facing the Vikings, teams just had to play better. No kidding?
They stated simplicity of how to beat no-nonsense teams like head coach Mike Zimmer's can be frustrating for opponents, no doubt. But that's the advantage smart teams that don't beat themselves have. There's no particular thing you can take away, you just need to execute what you do well and not gift opportunities to the other side.
Against the Raiders, Cordarrelle Patterson scored on a 93-yard kick. For all disappointment in not finding a role in the offense this year, this is the one aspect that kept Patterson (below).
WHERE ARE THE WIDE RECEIVERS?
Contributions like that compensate for a rather ho-hum offense. The Vikings don't have a wide receiver the Packers defense must takeaway. Stefon Diggs has been a nice rookie surprise, providing critical production with Wallace and Patterson somewhat middling. But even though he's been their best receiver in the last month of the season, the Vikings have won with him being targeted 12 times and just twice.
He's sometimes a huge part of what they do. And sometimes he's not. Yet they still win.
The lesson here is the Vikings are the kind of team where you have to defend the entire formation...the entire play. In the Raiders game, there was a perfect example of this as lightly-used TE Rhett Ellison snuck out of the backfield for a red zone touchdown on a blown coverage (below).
The Packers aren't devising a game plan this week to stop Rhett Ellison (he plays tight end for Minnesota, in case you were wondering). But not falling asleep on any one element of the pass pattern (or run defense) is a must against an offense that keeps squeezing out victories on the heels of other teams' mistakes.
For all the criticism that Bridgewater has gotten in throwing for less than 200 yards in half of his games this season, he's shown the ability to find the open man when he's absolutely needed to. That's not stat-sexy, but it's winning football.
Who will that open man be? Your guess is as good as mine -- it seems to change from week to week. How many yards must Adrian Peterson be held to to ensure a win? I don't know -- he's been held to two yards per carry and 57 total yards...and they've won (vs the Chiefs).
To beat the Vikings, the Packers can't beat themselves, which has proven much easier said than done in 2015.
STORIES FROM FOOTBALL BY FOOTBALL
Four things to know for Week 11

Looking at the CFB playoff picture
Matt Chatham played for the Patriots and Jets over nine seasons in the NFL, winning three Super Bowls. He is also the founder of footballbyfootball.com. You can follow him on Twitter