How Michael Bisping's coach Jason Parillo predicted his left hook win at UFC 199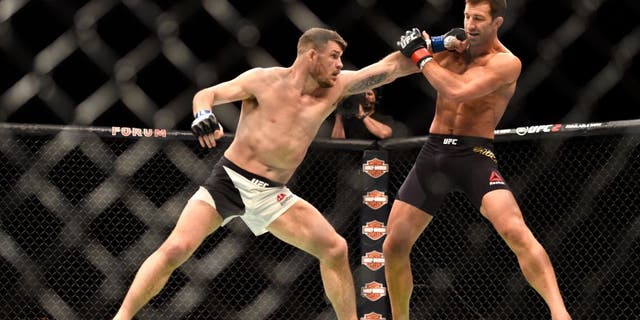 NEWYou can now listen to Fox News articles!
Michael Bisping shocked the world with a quick KO victory over middleweight champion Luke Rockhold in Inglewood, California, Saturday night. Not that Bisping's coach Jason Parillo was that surprised.
Walking out of the cage and arena, Parillo stopped by the FOX Sports' station on media row and exclaimed, "I called it! Left hook! I called it!" Indeed, he had.
Former boxer and longtime top coach Parillo had been working with Bisping to improve his hands for years, and "The Count" had clearly been making progress in recent fights.
Still, few gave Bisping a chance to unseat a fighter as great as Rockhold, especially on just two weeks' notice. Parillo, however, would later explain to us why he knew Bisping could eventually get to Rockhold with the left hook.
"Mike is actually left-handed. Mike's always had a good left hand," Parillo told FOX Sports the day after Bisping became world champion. "Obviously, his jab has always been a good weapon for him. He's really come a long way with his left hook. It's something I've worked with him a lot on the past few years. It showed up a little on the Anderson Silva fight.
"And, watching Luke Rockhold, that's a shot you go after lefties with ... The left hook comes off of that blind angle. Everything Luke was doing, his hands were down at his chest. I watched some of his videos of his training and everything he did: If he was throwing a straight left hand, he was bringing [the right] below his chest. It's part of his movement, he likes to keep that right hand underneath him. I just knew with Mike's speed we were going to get to that beard."
Pre-fight, both Bisping and Parillo admitted that it was a huge task to try and get conditioned in just two weeks for a five-round title fight. Parillo insists, however, that come fight night, Bisping was as confident as ever.
"I would definitely tell you if he was a little shaky, a little nervous. It's not going to hurt us, now, but at the end of the day, he was very confident," Parillo said. "He was the same frame of mind that he was before the Anderson Silva fight.
"He's been getting better and better over the past few fights, but he really turned a corner with the Anderson fight. That definitely dominoed over to this fight -- the same energy, the same mindset, the same confidence. It was real. It was real confidence. You see a lot of fighters talking about what they are going to do but sometimes, if you know them enough, you can tell they are just trying to convince themselves. That's not something that Mike was doing. Mike was very confident and ready to go."
And go. Bisping and Rockhold nearly got into another fight at the UFC 199 post-press conference. The two men have split their first two outings, and attention is turning to a possible immediate title-rematch to break the tie.
Parillo rightly believes that Bisping deserves a long break after beating Anderson Silva and Rockhold in just the past four months.
"I definitely believe that he should take a couple of months, go on vacation," he reasoned. "He had a war with Anderson a couple months back. Fortunately, in this fight he was relatively unscathed. He didn't really get touched and that's a good thing. But, he still had to spar for it and get ready so it would be nice for him to get a little time off."
After that, however, he predicts that the new defending champion will be ready for whoever is in his path.
And Parillo predicts that Bisping will keep the same attitude as champion that he always carried with him as challenger. "I like the way he thinks. He's a guy that, before he fought for the title, he was willing to fight anyone as it was," Parillo said. "What would make that any different now that he's a title-holder?"
"Oh, now that he's the champion he's going to sit there and pick and choose who he wants to fight? That's not the style of Michael Bisping. ... He takes on all comers."