Holm, Correia official for main event; one fighter 5 pounds over weight at UFC in Singapore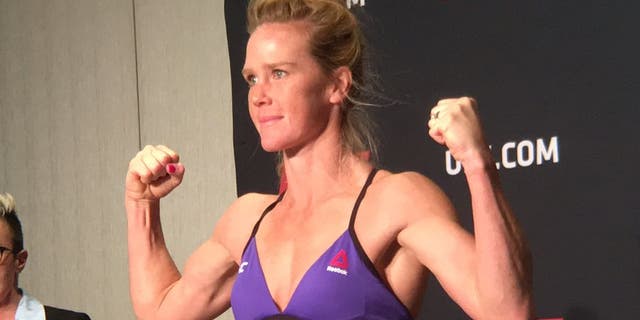 NEWYou can now listen to Fox News articles!
The main event for the UFC's return to Singapore is set with former women's bantamweight champion Holly Holm and former title contender Bethe Correia both hitting the scale on weight.
The fights from Singapore will air early Saturday morning in the United States.
Holm came in at exactly 135 pounds as she looks to get back on track following three straight losses including her last fight, which took place at 145 pounds in the inaugural women's featherweight title fight in February.
Meanwhile, Correia hit the scale at 136 pounds for the main event where she will attempt to add a former champion to her win column on Saturday. Correia even posted a photo cutting weight alongside Holm ahead of their fight on Saturday.
The co-main event saw former heavyweight champion Andrei Arlovski come in at 242 pounds while his opponent Marcin Tybura was at 243 pounds. Arlovski will look to get a win after suffering four straight losses in the UFC.
Former lightweight champion Rafael dos Anjos will also make his debut at welterweight on the card as he takes on Tarec Saffiedine. Both dos Anjos and Saffiedine weighed in at an identical 170 pounds for their fight.
Only one fighter missed weight as newcomer Carls John de Tomas came in at 131 pounds for his flyweight bout against Naoke Inoue. The flyweight limit in a non-title fight is 126 pounds, which means de Tomas came in at a whopping five pounds over weight for their fight.
As the weigh-ins came to a close, UFC officials hadn't yet announced if the fight between de Tomas and Inoue would move forward as scheduled.
MAIN CARD (Saturday, 8 a.m. ET on UFC Fight Pass)
MAIN EVENT: Holly Holm (135) vs. Bethe Correia (136)
Andrei Arlovski (242) vs. Marcin Tybura (243)
Colby Covington (171) vs. Dong Hyun Kim (171)
Rafael dos Anjos (170) vs. Tarec Saffiedine (170)
PRELIMINARY CARD (4:30 a.m. ET on UFC Fight Pass)
Takanori Gomi (156) vs. Jon Tuck (156)
Cyril Asker (245) vs. Walt Harris (249)
Alex Caceres (146) vs. Rolando Dy (146)
Ulka Sasaki (125) vs. Justin Scoggins (126)
Frank Camacho (169) vs. Li Jingliang (170)
Russell Doane (135) vs. Kwan Ho Kwak (136)
Carls John de Tomas (131) vs. Naoki Inoue (124)
Ji Yeon Kim (136) vs. Lucie Pudilova (134)