Here's what RB Arian Foster brings to the Miami Dolphins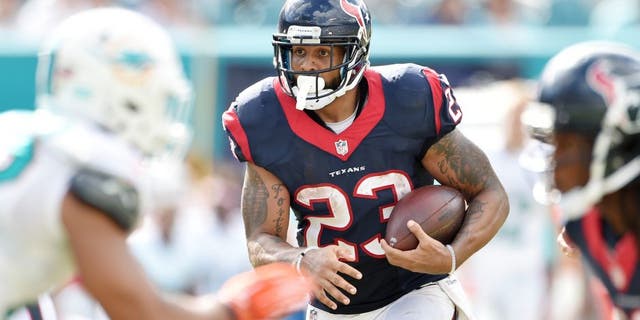 NEWYou can now listen to Fox News articles!
The Miami Dolphins failed to improve their rushing attack this offseason after ranking 23rd in the NFL in yards on the ground last season. Not only did they do little to get better, but it's fairly safe to say they actually got worse. Lamar Miller left for the Houston Texans in free agency, and he led the team with 872 yards last season.
His departure left the Dolphins searching for a viable replacement, which they missed out on. C.J. Anderson returned to the Broncos, and James Starks did the same for the Packers. Both players, in addition to Chris Johnson, were targets of the Dolphins.
Four months later and Miami has finally added a running back to join Jay Ajayi in the backfield, and it's the guy Miller replaced in Houston. On Monday, the Dolphins signed Arian Foster to a one-year deal, bringing a much-needed veteran presence to one of the youngest and most inexperienced backfields in the league. Unfortunately, he may not be much more than that -- a second option and mentor-type player for Ajayi and company.
Last season, the 29-year-old running back rushed for a career-low 163 yards in just four games before tearing his Achilles, further proving that he may be an aging, injury-prone option at this point in his career. Even when healthy, Foster struggled, averaging just 2.6 yards per carry on 63 attempts with two fumbles.
The Dolphins can expect Foster to be more effective than he was in 2015, but how much better is unclear. He's still recovering from a torn Achilles, which is an extremely serious injury for a 29-year-old back with 1,454 career carries. Fortunately, he's expected to be ready for training camp in just over a week and has been running for months. That's not to say he's able to cut and push off of that foot, though.
When camp does open, Foster figures to take a backseat to Ajayi. The second-year back is the presumed starter for the 2016 season despite receiving only 49 carries in nine games as a rookie. His inexperience is obviously an issue, which is part of the reason the Dolphins had to sign someone. But at this point, he's the more talented back.
One thing that Foster does bring is the ability to catch the ball out of the backfield. He has 249 career receptions and 2,268 receiving yards in seven seasons. Sure, rookie Kenyan Drake is also a decent receiver with game-breaking speed, but he's even more inexperienced than Ajayi and can't be relied on, given that he's an extremely raw prospect.
On the off-chance that Foster does return to his past form as a surefire No. 1 running back, the Dolphins will have hit a home run. That's a long shot of course, given his injury history and ineffectiveness last season, but he did rush for 1,246 yards in 13 games two years ago. If that's the case, Foster could give Ajayi another year to develop as a complete back with improved blocking skills as well as the ability to catch the ball out of the backfield, which he did only seven times in 2015.
The most likely scenario is that Foster goes into camp and competes for a backup job, helping groom Ajayi and Drake along the way. Both young backs could benefit from some guidance courtesy of a guy who proved all his doubters wrong to the tune of 6,472 career rushing yards. It's a low-risk move by the running back-needy Dolphins and one that could pay off if Foster stays healthy.