Here's the call that caused a shouting match between an umpire and the Nationals' GM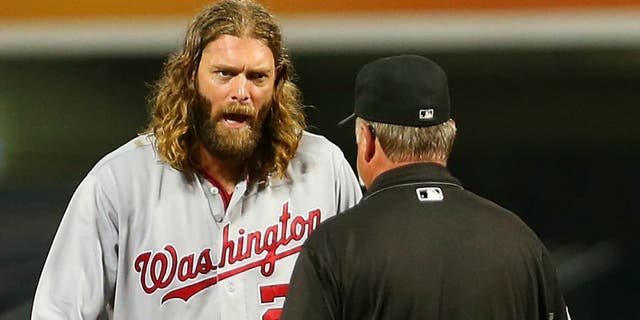 NEWYou can now listen to Fox News articles!
The New York Mets and Washington Nationals combined for eight homers on Thursday night, but it was a slide that dominated the conversation afterward. And at least one of those conversations got heated.
With the Nationals down 9-7 in the top of the ninth inning, Jayson Werth led off with a walk. Daniel Murphy then hit a grounder to shortstop Asdrubal Cabrera, who flipped the ball to second baseman Neil Walker. Werth was called out for an illegal takeout slide, resulting in a double play --€" even though Murphy had been safe at first base. The call was upheld on a replay review. Bryce Harper than struck out to end the game.
But that was just the beginning of the action. In a hallway following the game, Nationals GM Mike Rizzo had some harsh words for umpire Jim Joyce, the crew chief who made the controversial call at second base. According to the New York Daily News, Rizzo said, "You blew it." The two reportedly had to be restrained during the argument, which went like this:
Afterward, Werth seemed more confused than irate.
"It's a big spot in the game there," Werth said, per MLB.com. "It's challenging because I feel like, on some level, I had the same slide earlier in the game. ... To me, that's a clean slide. It's been a clean slide for over a hundred years. There were no spikes involved; I was down early."
Ironically, the new "slide rule" went into effect this season because of a similar situation in last year's NLDS when the Los Angeles Dodgers' Chase Utley took out then-Mets shortstop Ruben Tejada, breaking his leg in the process.