Here's how two Michigan football players earned their chance to meet the Pope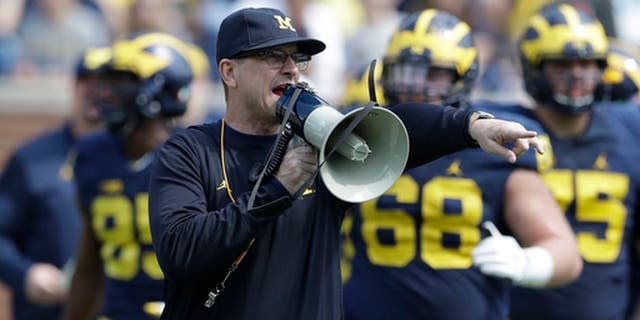 NEWYou can now listen to Fox News articles!
When Michigan announced back in January that they would take their team to Italyfor a week it was met withthe usual "this is just Jim Harbaugh being crazy" reaction that so often surroundsanything surrounding the Wolverines' football coach.
Harbaugh promised there would "educational" and "cultural" opportunities for his players. And now that the teamdeparted for Europe on Saturday, it appearsthe head coach held true to his word.
In addition to taking in the sights of the Eternal Cityandpracticesplanned at soccer clubAS Roma's facility, there is also a team visit to Vatican City and St. Peter's Square forPope Francis' weekly address. Thoughtwo of Michigan'splayers junior defensive linemanSalim Makki and sophomore offensive tackle Grant Newsome have earned the opportunity to join Harbaugh and his wife, Sarah, foran opportunity to meetPope Francis himself.
According to the Associated Press, those two players were selected after Harbaugh asked players to submit essays on what meeting the Pope would mean to them.
In their essays, Makki, who describes himself a devout Muslim, called the Pope "one of myheroes. … In a time where Muslims have been scrutinized and wrongly identified with violence, Pope Francis has defended Islam and stated that not all Muslims are violent." Newsome discussed how faith got him through rehab following a season-ending injury last season.
"It's another example of coach doing something outside the box," cornerback Keith Washingtonsaid tothe Associated Press. "It's also him just trying to give us an opportunity to do something that we wouldn't have a chance to do without Michigan football."
Charles LeClaire-USA TODAY Sport | Charles LeClaire