Here's how rare Bucs RB Jacquizz Rodgers' performance on Monday night was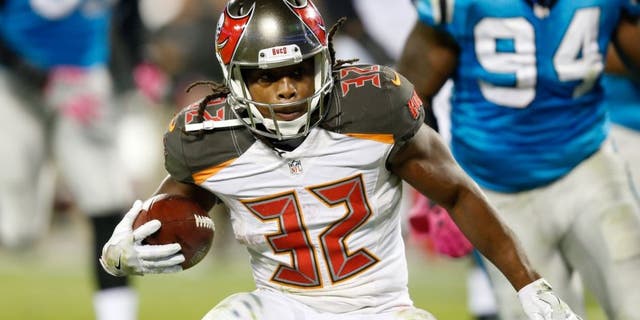 The Tampa Bay Buccaneers were forced to roll with their third-string running back on Monday night, with Doug Martin and Charles Sims both injured. Jacquizz Rodgers entered the game with 15 total touches this season -- 13 rushes and two receptions. His lack of work was no concern for the Bucs, though.
Rodgers was given 30 carries (101 yards) and caught five passes (28 yards) against the Panthers on Monday night. That's obviously a huge workload for a third-string back, and it was almost unprecedented.
Last season, only one running back reached those numbers: Devonta Freeman of the Falcons, who also had 30 carries and five receptions. Incredibly, no running back had totaled 35 touches in a single game this season prior to Rodgers, which makes his 129-yard performance even more impressive.
To put the Buccaneers' reliance on Rodgers into perspective, consider this. Only 13 times since the start of the 2006 season has a running back had at least 30 carries and five receptions (via Pro-Football-Reference). In all 13 of those games, that running back's team won, going a perfect 13-0.
Does that mean the secret to winning in the NFL is giving your No. 1 back 35 touches? No, probably not. But the numbers do indicate that a team has a solid chance of winning when doing so.
The Buccaneers were put over the top by Roberto Aguayo and his game-winning field goal, but Rodgers had a much bigger impact on the victory.