Hendrick Motorsports is down, but is it safe to count its drivers out?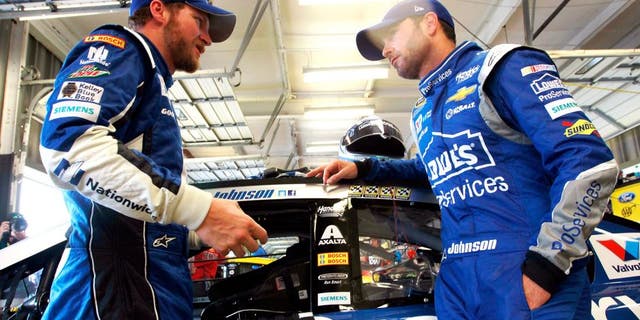 With all the success that Joe Gibbs Racing has had these last few weeks, the flipside is that Hendrick Motorsports has gone stone cold. Believe it or not, they have only led a total of four laps in the last four races, and all those were by Jeff Gordon. So here we are at the beginning of August with only five races until the Chase for the Sprint Cup begins, and Hendrick fans have to be asking what in the world is going on.
Obviously, Jimmie Johnson and Dale Earnhardt Jr. are solidly locked into the Chase. That third-place finish Sunday was big for Jeff Gordon, who is still winless this season. I think he will be safe on points. To me the real question mark is Kasey Kahne. He's just not running well, and if my memory is correct, his best finish in the last five races has been a 19th at Loudon.
So Kasey isn't running well, plus his luck has been nothing but bad lately. I don't know what to say about Jeff Gordon. They just can't seem to find what he likes with this 2015 rules package. We all know year in and year out the constant measuring stick of Hendrick Motorsports is Jimmie Johnson, crew chief Chad Knaus and that No. 48 team.
I think it is important to remember that a couple of times during those six championship's that Jimmie won, they weren't running well at times and some folks wanted to write them off. Then the team got hot and ended up winning it all.
As a whole, yes, I think Hendrick Motorsports is off right now. At the same time I say that, I also warn you that it would be foolish to count them out by any means, especially when it comes to that No. 48 team.
Dale Jr. is hit or miss right now. You just never know if he's going to be up there leading the race or back in the pack fighting for 20th position. Unfortunately, the No. 24 team just seems to be an 18th- to 20th-place place team right now. Obviously, we will know more when the Chase starts.
When it does kick off, the two places that are always the measuring stick for them are Dover and Martinsville. Dover naturally more so for the No. 48 team, and Martinsville for the entire organization, but they just seem to be missing something right now.
To me, there are two storylines to follow for Hendrick Motorsports the rest of the season. Will they be able to get all four cars in the Chase like Joe Gibbs will have once Kyle makes it in, and will Hendrick Motorsports find what they are missing in time for the 2015 Chase, to stand up to the Gibbs Toyotas?