Head-to-head NFL mock draft: Schrager and Klatt duke it out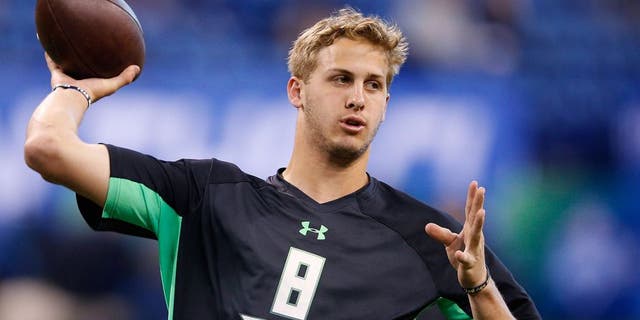 NEWYou can now listen to Fox News articles!
Your traditional one-man mock drafts are so passe. So we present to you the two-man mock, in which FOX Sports draft gurus Peter Schrager and Joel Klatt alternate picks to get a more even-handed look at the potential board.
Klatt made all the odd-numbered picks. Schrager took the evens. The first round is only 31 picks deep this year with the Patriots losing theirs, so we added the Browns' second-round pick at the end to make it an even 16 picks apiece. Check out the result below and listen to their podcast for the explanation.
Also, if you missed them, check out Schrager's seven-round mock draft and Klatt's latest Big Board from earlier this week.
FIRST ROUND
1. Los Angeles Rams (7-9): Jared Goff, QB, Cal
2. Philadelphia Eagles (7-9): Carson Wentz, QB, North Dakota State
3. San Diego Chargers (4-12): DeForest Buckner, DE, Oregon
4. Dallas Cowboys (4-12): Jalen Ramsey, DB, Florida State
5. Jacksonville Jaguars (5-11): Myles Jack, LB, UCLA
6. Baltimore Ravens (5-11): Laremy Tunsil, OT, Ole Miss
7. San Francisco 49ers (5-11): Joey Bosa, DE, Ohio State
8. Cleveland Browns (3-13): Paxton Lynch, QB, Memphis
9. Tampa Bay Buccaneers (6-10): Ronnie Stanley, OT, Notre Dame
10. New York Giants (6-10): Leonard Floyd, OLB, Georgia
11. Chicago Bears (6-10): Vernon Hargreaves III, CB, Florida
12. New Orleans Saints (7-9): Sheldon Rankins, DT, Louisville
13. Miami Dolphins (6-10): Ezekiel Elliott, RB, Ohio State
14. Oakland Raiders (7-9): Robert Nkemdiche, DT, Ole Miss
15. Tennessee Titans (3-13): Jack Conklin, OT, Michigan State
16. Detroit Lions (7-9): Shaq Lawson, DE, Clemson
17. Atlanta Falcons (8-8): A'Shawn Robinson, DT, Alabama
18. Indianapolis Colts (8-8): Taylor Decker, OT, Ohio State
19. Buffalo Bills (8-8): Kevin Dodd, DE, Clemson
20. New York Jets (10-6): Noah Spence, OLB, Eastern Kentucky
21. Washington Redskins (9-7): Jarran Reed, DT, Alabama
22. Houston Texans (9-7): Karl Joseph, S, West Virginia
23. Minnesota Vikings (11-5): Corey Coleman, WR, Baylor
24. Cincinnati Bengals (12-4): Reggie Ragland, LB, Alabama
25. Pittsburgh Steelers (10-6): Mackenzie Alexander, CB, Clemson
26. Seattle Seahawks (10-6): Ryan Kelly, C, Alabama
27. Green Bay Packers (10-6): Kenny Clark, DT, UCLA
28. Kansas City Chiefs (11-5): Eli Apple, CB, Ohio State
29. Arizona Cardinals (13-3): Darron Lee, OLB, Ohio State
30. Carolina Panthers (15-1): William Jackson III, CB, Houston
31. Denver Broncos (12-4): Cody Whitehair, OG, Kansas State
SECOND ROUND
32. Cleveland Browns (3-13): Josh Doctson, WR, TCU