Have a look: Jaguars player shows off 'Color Rush' jerseys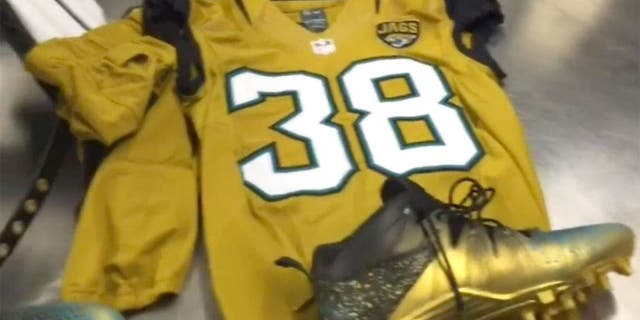 The Jaguars and Titans will square off in a key AFC South battle on Thursday night, and after the issues from last week's debut, all eyes will be on Jacksonville, in a sense.
In the video above, Jacksonville Jaguars defensive back Sergio Brown shows a sneak peak of the All Gold Color Jersey's for Thursday Night Football against the Tennessee Titans.
Last week, the Jets and Bills jerseys created a huge issue for people who are colorblind.
League spokesman Brian McCarthy said the NFL intends to incorporate a colorblindness test when designing its "Color Rush" alternate jerseys for next season.
"The standard television test did not account for colorblindness for fans at home that became apparent last night," McCarthy wrote in an email to The Associated Press. "We will enhance our testing to include a colorblindness analysis to better address this issue in the future."
McCarthy was responding to concerns raised by colorblind fans who couldn't tell which team was which during Buffalo's 22-17 win over the Jets. The Bills were dressed in scarlet red jerseys, sleeves, pants, socks and shoes. The Jets were decked out in Kelly green.
For more PROcast videos, click here.
-Information from the Associated Press was used in this story.