Hank Steinbrenner Confident Jeter Will Be Back With Yankees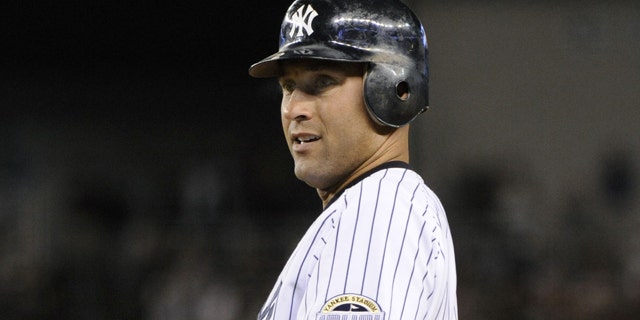 NEW YORK -- Hank Steinbrenner thinks Derek Jeter and the New York Yankees will agree to a new contract.
"I feel confident that Derek will remain with the Yankees, and my brother does, as well," New York's co-chairman said Tuesday night in a telephone interview with The Associated Press.
The Yankees resumed negotiations Tuesday with Jeter and his agent, Casey Close, a baseball official familiar with the discussion said. The official spoke on condition of anonymity because the team and Close didn't make any announcements.
Neither the official nor Steinbrenner would discuss what took place directly between the sides in the talks, which were first reported by foxsports.com.
"I'm not going to get into who's met who," Steinbrenner said.
New York had offered Jeter a $45 million, three-year contract at the start of negotiations. Going into Tuesday, the All-Star shortstop had not made a formal proposal.
Ahead of the session with the Yankees, Jeter met with Close to prepare for the resumption of talks, the official said. The sides had not met since Nov. 8.
Before Tuesday, Close had suggested a contract averaging about $23 million for four or five seasons, the baseball official said, but the numbers were suggested loosely by Close and should not be interpreted as a precise request.
"We want to keep him. He's very important," Hank Steinbrenner said. "I certainly hope he remains with us and he certainly should."
Jeter, who turns 37 in June, is coming off a $189 million, 10-year contract, behind only Alex Rodriguez's $275 million and $252 million, 10-year deals.
Another All-Star shortstop, Colorado's Troy Tulowitzki, agreed Tuesday to a new contract that pays him $157.75 million over the next decade. The 26-year-old Tulowitzki had been guaranteed $25.75 million through 2013.
Beckett Media, which prices baseball cards, posted pictures of Jeter in the jerseys all 30 major league teams, a blog page titled "TOTALLY FAKE BASEBALL CARDS."
Beckett playfully envisioned him with the Pirates, Royals and Cardinals, among others. First up is Jeter in a Red Sox uniform on a card that says: "Boston's Best" followed by "Jeter: You Ain't Seen Nawthin' Yet."
His Oakland card says: "Moneyball! Jeter Cashes In With Long-Term Deal," and his Colorado Rockies card calls him the "Blake Street Bambino." His Mets card says: "New York, New York" and "Derek Jeter Takes the Subway in 2011."
Jeter's Dodgers card says: "Bleeding Blue" and "Jeter Sees Green With Long-Term Deal."