Griffin puts up season-high 32 points in Clippers win over Knicks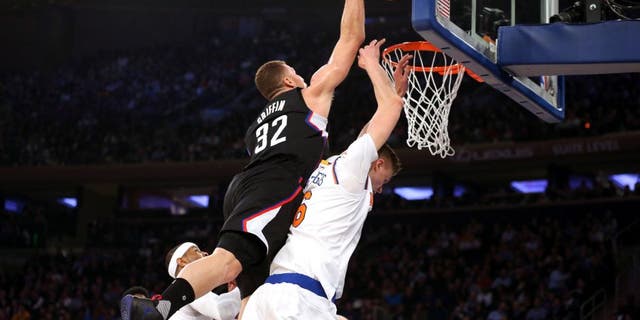 NEW YORK (AP) -- The Los Angeles Clippers saw plenty of fight at Madison Square Garden -- especially from a former Knick.
Blake Griffin scored a season-high 32 points and the Clippers beat New York 119-115 on Wednesday night after ex-Knick Charles Oakley was ejected and arrested in the first quarter.
Griffin was one the players close to the action as Oakley shouted at MSG chairman James Dolan and shoved away security guards before he was forcefully removed by arena security.
"I stopped and then there was an inbounds play on the side. I turned around just in time as he was handing it to him and then there was a foul. I walked back to catch the third, fourth and fifth rounds," Griffin said. "It was crazy, man."
DeAndre Jordan added 28 points and 15 rebounds for the Clippers, who rallied from a 10-point deficit in the fourth quarter to snap a three-game losing streak.
Carmelo Anthony had 28 points and Kristaps Porzingis 27 on a night there was plenty of fight from the Knicks -- especially Oakley.
The rugged power forward was removed after an altercation with arena security near the seat of Madison Square Garden chairman James Dolan.
Anthony played well the day after Phil Jackson took another dig at him on Twitter by referencing an article that was critical of the forward. Coach Jeff Hornacek acknowledged it may have been a distraction but one he expected the Knicks to play through, and they had a chance to tie before Anthony missed a 3-pointer down 118-115.
Griffin then put it away with a free throw with 5.9 seconds left.
"They kept their composure. They played well, they executed and we just couldn't score," Porzingis said. "That's how it goes sometimes."
The Knicks lost their third in a row on a bizarre day even for one of the NBA's most dysfunctional franchises.
"At the end of the day, regardless of what's being said, what's going on, you still got to come in here and play basketball," Anthony said. "And I think that's the most important part, the most important thing that we should be focusing on."
The Jackson-Anthony feud dominated the pregame talk but quickly took a back seat to the main event between Oakley and Dolan. Oakley was a popular Knick during the 1990s but has fallen out of favor with the franchise because of his criticisms of Dolan.
He shouted at Dolan from a seat a couple of rows behind until security came. Oakley shoved a couple of them before he was removed while players on both teams watched as Porzingis was preparing to shoot free throws. Fans chanted "Oakley! Oakley!" as he was led to the tunnel, handcuffed and eventually taken by the New York Police Department.
"It kind of happened fast. It was a crazy little situation," Jordan said. "But then they kind of took my boy out of there. It was kind of crazy."
TIP-INS
Clippers: Clippers coach Doc Rivers and assistant Mike Woodson both played for the Knicks. Woodson later coached the team to playoff appearances in 2012 and 2013. ... Clippers got his 785th win, passing Gene Shue for 15th place on the NBA career coaching list.
Knicks: Hornacek said forward Lance Thomas, who has missed 13 games with a broken bone in his face, is having fewer headaches and doing more in practice. He may take contact in Thursday's practice with the hope of playing Friday or Sunday. But Joakim Noah (sore left hamstring) is probably unavailable Friday, with Sunday a possibility.
UNHAPPY ANNIVERSARY
Wednesday was the one-year anniversary of Jackson firing Derek Fisher as coach when the Knicks had a 23-31 record. They are 22-32 now.
ONE-SIDED
The Clippers beat the Knicks for the ninth straight time, their longest current winning streak against an opponent and their longest ever against New York.
UP NEXT
Clippers: Visit Charlotte on Saturday to end the eastern portion of their five-game trip, which ends at Utah.
Knicks: Home again Friday to face Denver, Anthony's former team.