Gregg Popovich defended Zaza Pachulia-style plays when Bruce Bowen was a Spur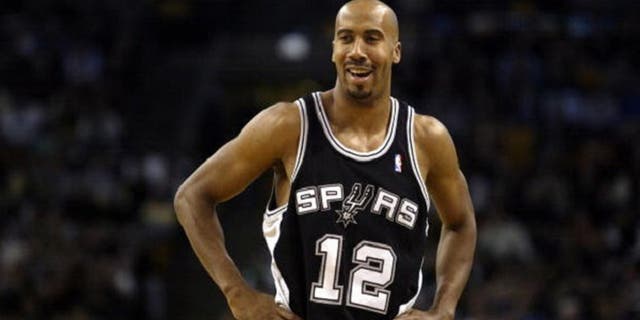 San Antonio Spurs head coach Gregg Popovich ripped Zaza Pachulia on Monday, a day after the Warriors center got underneath Kawhi Leonard just as he rosefor a jump shot. Leonard landed on Pachulia's foot and re-injured the ankle that kept him sidelined for Game 6 against the Rockets.
Not only did Golden State erase a 23-point third-quarter deficit to win Game 1 after Leonard was gone for good, but the Spurs star has now been officially ruled out for Game 2, as well. Popovich was clearly angry about the play when speaking to reporters, citing Pachulia's history of recent incidents, while calling the play against Leonard a "totally unnatural closeout."
Popovich has a right to be upset, because whether Pachulia intended to injure Leonard or not, the bottom line is that his absence is going to drastically affect San Antonio's chances of winning the series -- and it probably already has. But it's worth noting that Popovich was singing a completely different tune several years ago when one of his own players was repeatedly accused of making the very same type of play.
Bruce Bowen was known as one of the league's premier defenders during his time with the Spurs from 2001-2009, but he was also someone who had a history of making dirty plays that resulted in opponents suffering injuries. He was warned by the league office to"watch his feet and give shooters room to land" in 2006, otherwise he'd face a possible fine or suspension.
Elsa/Getty Images Sport
But Popovich defended his player at the time, and (via mysanantonio.com, h/t r/NBA) essentially told him to keep playing exactly the same way.
Popovich said Bowen is being singled out, citing incidents where New Jersey's Richard Jefferson and Dallas' Josh Howard sprained ankles after landing on Miami's Shaquille O'Neal and Golden State's Mickael Pietrus.
"Did (the league) call them?" Popovich said. "Did they call all those guys (Dirk) Nowitzki landed on when he sprained his ankles the past three, four years? The answer is no.
"So why did they call Bruce? Because it's happened to him twice? Bruce guards an All-Star every night. If he was doing what they're accusing him of doing, wouldn't it have happened a higher percentage of times?
"The people who cry about it are just frustrated about having to go against Bruce." …
"The league is just trying to cover its a -- ," Popovich said. "I told Bruce, 'You be Bruce Bowen. You're the best (expletive) defender in this league. You will NOT change the way you play defense.'"
It's not surprising that a head coach would defend one of his own players for doing the same thing he'd rip an opponent for, even when player safety is the issue. Butlet's not pretend that Popovich is standing up for the integrity of the game here, because that clearly isn't the case.