Golfer's story of night in the rough draws skepticism
NEWYou can now listen to Fox News articles!
Something happened to pro golfer Robert Allenby last week in Honolulu, but nobody - including him - seems to know exactly what it was.
Intrigue continues to build around an incident in Honolulu that left the four-time PGA Tour winner with severe facial injuries early Saturday morning.
Allenby, in Honolulu Friday after missing the cut in the Sony Open earlier that day, claimed he was kidnapped, beaten and robbed after meeting friends at the posh Amuse Wine Bar on Kapiolani Blvd.
He was staying at the upscale Kahala Hotel, just steps away from the golf course where the Sony Open was being held, before heading to Amuse, a 20-minute drive away, with his caddy Mick Middlemo and his friend Anthony Puntoriero.
"People love mysteries like this. We've even heard the story that he'd been abducted by aliens by now."
Medics responded to a call at the Kahala Hotel at 2:50 a.m. Saturday where they treated a 43-year-old male for facial wounds, Honolulu Emergency Services Department spokesperson Shayne Enright told FoxNews.com. She said the male declined to be transported to the hospital.
Allenby didn't report his purported attackers until he returned to the Kahala Hotel, a 20-minute cab ride from Amuse. Honolulu Police subsequently opened an assault investigation, but an FBI spokesman denies Allenby's claims that the FBI is aiding in that investigation.
Allenby's account of what happened that night has continued to change, but all versions initially begin with dinner and a few glasses of red wine at Amuse, FoxSports.com reported.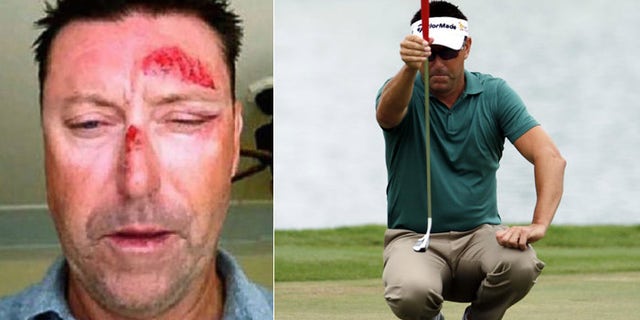 Allenby could not be reached for comment Tuesday.
However, over the weekend, he posted a photo of himself on his social media accounts after the alleged attack showing his swollen left eye and deep scrapes to his eyelid and nose.
"I didn't think I was going to survive this one," Allenby told the Australian Associated Press. "I was separated from my friend in the bar after we paid the tab at 10:48 p.m. and he went to the bathroom, and next thing you know I'm being dumped in a park miles away."
He told several reporters that his wallet, cash, driver's license, PGA Tour badge and cellphone were missing.
He subsequently withdrew from the Humana Challenge in California, saying he did so on the advice of his doctor and needs time to fully recover before rejoining the tour.
Neither the general manager nor the owner of Amuse would comment on Allenby's claims that he may have been drugged there.
The elite bar in an upscale commercial district is housed in a design center that sells exotic furniture such as snakeskin tables and $40,000 leather couches.
A PGA Tour spokesman told FoxNews.com: "The tour security team would cooperate in any way possible with local authorities, sharing any information we have, but beyond that won't comment."
Michelle Yu, spokeswoman for the Honolulu Police Department, did not return emails from FoxNews.com for comment.
But a key Honolulu police source said there are questions about Allenby's story, including whether he was even attacked, since his injuries, two extensive scrapes on his forehead and nose, look as though they came from a fall, not a beating.
In addition, the HPD official questioned why Allenby didn't call police to the scene, and why his story continues to change.
The Guardian reports that Allenby initially claimed he was abducted in a parking lot, not from the street, by a group of unknown men, after they allegedly told him his friends were downstairs.
Allenby said he believed it was a targeted attack by people "jealous" of him, but he didn't name any suspects.
Charade Keane, a homeless woman who lives in the area, found Allenby just a block away, kitty-corner from the bar, where she said she rescued him from two homeless men who were harassing him. He initially said he had been taken six blocks away. She told the media that she heard Allenby arguing with the men, and offering to give them $500 to get his wallet returned.
Keane told several media outlets that she had flagged down a retired military officer who paid for Allenby to be driven by cab back to the Kahala Hotel.
Some of Keane's story conflicted with Allenby's.
For example, she denied Allenby's claims that she told him that he was dumped out of a car trunk onto the sidewalk.
He initially said he only knew he was dumped from a car "because a homeless woman found me and told me she saw a few guys pull up and throw me out of the car. That is where I got the scrapes above my eye from the sidewalk."
After she denied telling him this, he sent a text to the Golf Channel claiming the woman who helped him was "getting paid" to change the story, adding, "It's such a shame that people are focusing on whether the story is true. I say you only have to look at me to see the truth."
On Monday, he asked police to help him track down Keane to reward her with $1,000 for helping to save him, according to the Sydney Morning Herald.
Hawaii News Now said police are also looking into whether his credit card was used to buy liquor in a Waikiki store, which was captured on surveillance video.
"There are so many twists in the story, it is like peeling an onion," said Michael W. Perry, of KSSK Radio, Hawaii's most popular morning radio personality. "There is so much we don't know, like what happened to his friends and where was he for two hours . . . Saturday."
Callers to KSSK radio speculated on what happened to Allenby, Perry said.
"People love mysteries like this," Perry said. "We've even heard the story that he'd been abducted by aliens by now."