Giants' Rueben Randle not justified to complain about his role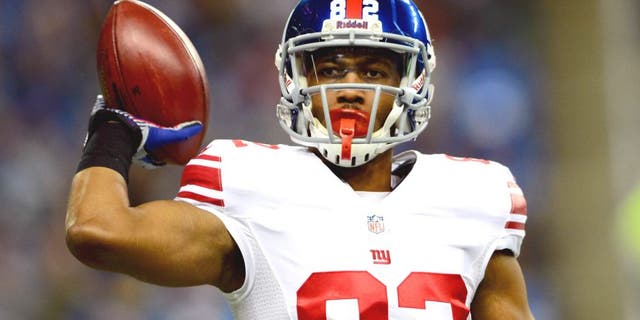 NEWYou can now listen to Fox News articles!
On Monday, New York Giants quarterback Eli Manning did something we never see him do -- he deflected some of the blame off himself for a costly Week 13 interception when he talked about wide receiver Rueben Randle's route on the play.
2015 had all the makings of a breakout season for Randle -- he posted career highs in receptions and yards in 2014, he had a season in Ben McAdoo's offensive scheme under his belt and 2015 is a contract year for him. Instead, Randle has struggled to make any impact in the passing game despite seeing one-on-one coverage more often than not.
On Tuesday, Randle let his frustrations boil over when talking about his role in the offense.
"My opportunities have been cut down a little more," Randle said, per the NY Daily News. "Odell is pretty much the prime target for us offensively . . . It's definitely frustrating. As a receiver you want to get more involved. It can be kind of tough when the opportunities are limited."
Randle isn't doing himself any favors -- he has demonstrated very little ability to create separation, make contested catches and get over the top of a defense. During an earlier part of the season when quarterback Eli Manning was said to be not targeting Odell Beckham Jr. enough, he spread the ball around to his tight ends, running backs and slot receiver Dwayne Harris. The reason why is simple -- Randle was not open.
Randle also touched on the failed fourth down conversion attempt that led to an interception. He blamed the play on miscommunication with Manning.
As I came underneath, I saw (him), and as I kept going, I lost vision of him (Manning), so in my mind mentally, I'm thinking he's getting ready to kind of roll out the pocket a little bit and move around," Randle said. "So I slowed down a little bit to kind of prepare myself to see which direction he was going to go."
"It was kind of a little bit too late for me to react and make a play on it," he said. "It was just a miscommunication."
Randle has four games left to make a major impact on offense and help carry the Giants into the postseason. If he continues to struggle, it seems highly unlikely that the Giants will offer him a second contract this offseason.