Giants offseason to-do list, starting with making the call on play-calling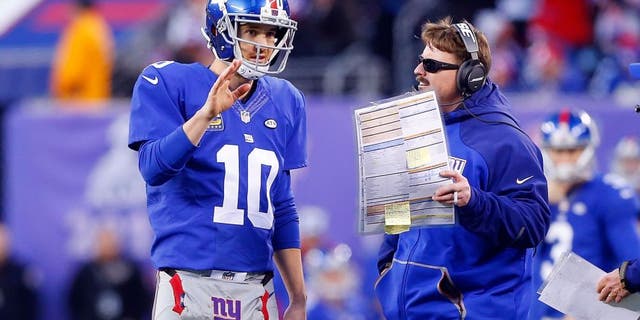 Each day between now and post-Super Bowl Monday, we'll roll out a get-to-the-point offseason plan for one NFL team. Today, the Giants; tomorrow, the Dolphins. After that, we'll see. Here's our three-point plan for New York:
1. Make the call on play-calling
The Giants already made the biggest offseason change earlier this month, when they mutually agreed to part ways with longtime head coach Tom Coughlin. Ben McAdoo, who was promoted to head coach, will look to build on the continuity he has with quarterback Eli Manning. Owner John Mara told reporters that McAdoo will bring energy, enthusiasm, vision and desire to the job and, maybe most important, "feels like he has something to prove." The Giants will run McAdoo's West Coast offense, but the big question is who will call the plays. Whether McAdoo takes on the responsibilities or identifies someone else will be a storyline to watch. As a first-year head coach, he must find a balance between learning how to oversee the entire team and not letting his offense slip.
2. Give up Cruz control?
Wide receiver Victor Cruz was expected to return at some point in 2015, but that never happened. Instead, Cruz was placed on injured reserve after succumbing to surgery for a season-ending calf injury. By the time next season starts, it will be nearly two years since Cruz, 29, tore his patellar tendon. "I hope you guys don't lose faith in me, because I haven't lost faith in myself," Cruz told reporters at the time of the injury. Cruz has three years left on a five-year, $43 million deal, but none of the remaining money is guaranteed. He is set to make upwards of $8 million in each of the next three seasons and is scheduled to count $10 million against the cap in 2016. The Giants face a big decision in whether to restructure his deal this offseason: Is he the much-needed answer opposite Odell Beckham Jr. or simply a shell of the player who had 1,536 receiving yards in his 2011 rookie season?
3. Raise the overall talent level
The Giants have missed out on postseason play for four straight seasons and have been 6-10 in each of the past two years. Mara has admitted the roster has been insufficient, but he still believes Jerry Reese is the right guy for the general manager job. Reese is credited with putting together two Super Bowl-winning teams, but he is facing a big offseason. The Giants have 20 unrestricted free agents, headlined by defensive end Jason Pierre-Paul, cornerback Prince Amukamara and wide receiver Rueben Randle. On top of that, the Giants own the No. 10 overall pick and will need to connect on some mid- to late-round guys for quality depth.
EARLIER TO-DO LISTS
• Tennessee Titans
• Houston Texans
• Cincinnati Bengals
• Minnesota Vikings
• Washington Redskins
• Cleveland Browns
• Dallas Cowboys
• San Diego Chargers
• Kansas City Chiefs
• Green Bay Packers
• Seattle Seahawks
• Pittsburgh Steelers
• San Francisco 49ers
• Baltimore Ravens
• Jacksonville Jaguars
• Tampa Bay Buccaneers
• New England Patriots
• Arizona Cardinals
• Chicago Bears