FRR: The little team that could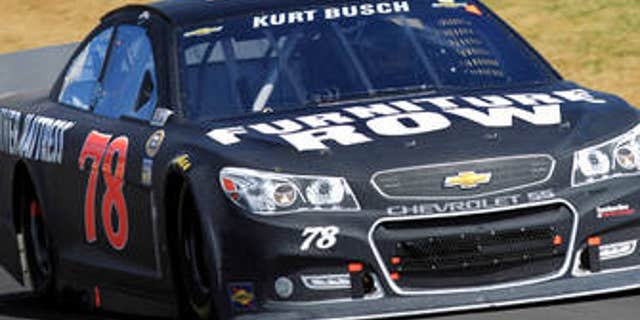 DENVER – If Joe Garone's phone was ringing off the hook on Tuesday with interested agents and drivers vying for the No. 78 Chevy seat, by Thursday morning the general manager of Furniture Row Racing's phone must have darn near blown up.
After news of NAPA's split from Michael Waltrip Racing began to spread late Wednesday night, Furniture Row Racing suddenly became a possible haven for displaced drivers -- and sponsors -- involved in the "Spingate" fallout from Richmond on Sept. 7.
Suddenly, the little team from Denver -- the only single-car operation ever to make the Chase -- not only became a possible destination for drivers looking to rebuild their careers, as Kurt Busch did so masterfully this season, but it could also be the next best boutique shop in stock-car racing.
For drivers looking for a break from drama, Furniture Row Racing could be an optimum solution.
Barney Visser took what once was a pillow factory nestled in an industrial neighborhood north of Denver and in 2004 began laying the groundwork for what would become not just a winning Cup team in 2011 but a Chase for the Sprint Cup contender two years later.
The Furniture Row Racing shop is every bit as understated and unpretentious as its owner -- who prefers matte black race cars with as few embellishments as possible. Other than the number "4000" over the door and the subdued black-and-white checkered tile across the entry of the brick-and-glass structure, there's not a single feature to reveal that a top 10 NASCAR team is flourishing inside.
"When I first walked in here, it was just an open shell," Garone said. "I never thought in a million years there would be a Cup shop operating out of Denver."
There's no receptionist in the foyer. The team's philosophy of not spending money unless it buys speed is evident by the sparse surroundings.
But this organization wants for nothing.
Director of competition Pete Rondeau is quick to paraphrase the boss, "If you need it, we'll get it," he said. "But you better be sure you need it."
Garone's office is modestly appointed with comfortable leather club chairs surrounding his desk. There's a conference room down the hall where the team holds weekly meetings with Busch on Tuesdays and technical partner Richard Childress Racing on Monday.
Around the corner sits another well-sized office where the team engineers work in concert with crew chief Todd Berrier, affectionately called "The Mad Hatter" by one of his staff for continually searching for techniques to make the cars faster.
Although FRR receives chassis and engines from RCR, there are the typical motorsports work stations throughout the 20,000-square foot structure -- shocks, springs, suspensions, drive shafts, transmissions, tires, wires, sandblaster, a paint booth plus a chassis dyno and a seven-post shaker rig.
Despite all the tools FRR has at its disposal, Garone points to the 2010 season as the turnaround for the team. After running a limited 18-race season in 2009 with Regan Smith, the company acquired the services of his former PPI Motorsports teammate Mark McArdle, who had been laid off from his role as competition director at Richard Petty Motorsports.
McArdle enlisted Rondeau to become the car chief on the No. 78 Chevy. Rondeau was promoted to crew chief later that year and was named director of competition at the start of this season. He has assumed greater responsibilities since McArdle moved back to North Carolina to be with his family and work for Richard Childress.
But Rondeau credits McArdle's organizational skills with righting the ship.
"Mark is a great organizer," Rondeau said. "With any of these little teams, that's a big part of the organization. We have that now. And it's a big part of any team. We have a lot of that now, and it's getting better on a daily basis.
"We have to stay ahead of the game. And we're ahead. We've already chassis-dyno'ed our Dover car and it's Tuesday -- and it hits the plate tomorrow. It's normal now. We just work two weeks out."
Streamlining the process enables the 64-man operation to perform so efficiently. Once the FRR transporter arrived back in Denver on Monday from last weekend's activities at Chicagoland Speedway, the team was able to clean the truck, remove the cars, run data on Busch's race car and reload by Tuesday afternoon to make the 34-hour trip to New Hampshire.
There are economies of scale that also benefit the team, whether that means the weekly parts that come on "two black boxes" each week when the Furniture Row trucks drop consumer goods across the country or taking a new car to the wind tunnel while bringing back a chassis from RCR in Welcome, N.C. on the return.
While working outside the traditional confines of the motorsports community in North Carolina might be appear daunting to some, Rondeau knows it's what separates the racers from the pretenders.
"People who come here have to be committed to the team," Rondeau said. "When you come to Colorado, you're not going to be running down the street to another race shop for $50 a week, because there are no other race shops.
"If someone moves out here, we know they're serious."
Over the last few years, the transition of workers originally from the area has dwindled down to seven or eight. With the investment that Visser has made in engineering, and last year with bringing Busch into the fold, most of the specialized motorsports personnel came from the Carolinas.
"You have to have the right people in place, and that includes the driver," Garone said. "A few years back we started a technical agreement with RCR. Then we brought our motor program to ECR (Earnhardt Childress Racing Technologies in 2011).
"Then bringing Todd on board -- and you put him with Cole (Pearn, head race engineer) and Pete and Phil (Jimenez, team engineer) -- putting them in key positions and giving that a little time to gel.
"And then enter Kurt into that mix for six races last year. The first race was a little rocky. The second race got a little better and communication got a little better. Kurt began to understand what we were doing with the race cars. We began to understand what he wanted out of our race cars -- it just all came together last year."
Garone said that through testing and time together with the team, Busch's results "snowballed." He credits the tight-knit organization with providing an environment in which Busch could thrive.
If there has been an Achilles heel for Busch, it has been the pit crew. Although there had been discussions of borrowing a team from RCR for Richmond, the plan didn't materialize. However, after a miserable execution of the second stop at Richmond, the driver shrieking, "(WTF), Joe Garone," proved to be the catalyst for change -- and a new ring tone for most of the FRR crew.
By Chicagoland, Busch had a new front-tire changer and the average time of the pit stops dropped to 12.9 seconds.
After Busch's fourth-place finish on Sunday, his ninth of the season, the team is a career-high sixth in the point standings. Busch has led 441 laps -- more than all of Visser's other drivers combined.
While Busch recognizes the geographical challenges that Furniture Row faces operating out of Denver, he doesn't discount the team from being "a bona fide program." And after working with multi-car operations such as Roush Fenway Racing or Penske Racing, Busch can appreciate the advantages and "freedom" that a team such as Furniture Row can provide.
"One thing that is a strong suit that I've noticed with this whole situation is the independence and being able to navigate through some of these waters a bit more aggressively, as well as we can steer our ship in a quicker direction and not have to report back to a big mother ship, so to speak," Busch said.
"So being able to just navigate and get things implemented into the cars quickly is so refreshing. We have all the right people, and it was just a matter of having everything fall into place with the performances on track, and we've been able to do that. It's been a very successful season ,and we're in the Chase and we don't want it to stop there. We want it to keep going."
And the more successful Busch is with this title run, the higher caliber of candidates FRR can hope to attract as his replacement for 2014.
Garone contemplated a variety of drivers earlier in the week, but it might be time to clear the dry erase board in his office and start from scratch. Thursday's news with NAPA could have other dominos falling before FRR has to make a final decision.
"Where we're at right now is deciding what exactly our direction should be," Garone said on Tuesday. "If you look at where you are today and say, 'I might not be able get back to the level because of the experience the driver you have already', then do you look at another veteran driver that can get the job done?
"Do you look at a mid-level driver that's caught in between where they were and where they could be? Or do you go with a rookie and put a first-class effort behind him to try and grow a long-term relationship with a driver?"
With the latest developments, Furniture Row Racing could take on a whole new look from what might have been imagined when Busch first announced he was leaving last month. No, it's unlikely that the Denver-based shop will ever blossom into a showplace such as its Carolina counterparts. And it's unlikely that FRR will be able to replace Busch with another NASCAR champion.
But for the right racer who is willing to buy into what Visser and the No. 78 crew have developed, it could provide a platform for a successful future.