Francis Ngannou sends a frightening message to the UFC heavyweight division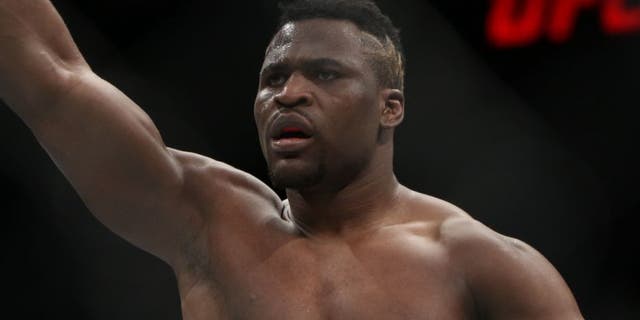 NEWYou can now listen to Fox News articles!
French fighter Francis Ngannou might be the best heavyweight prospect to join the UFC roster since current heavyweight champion Stipe Miocic first debuted in 2011.
The 6-foot-4, 255-pound monster has been a force of nature through his first four fights in the UFC by finishes all of his opponents inside the first or second round.
This Saturday night, Ngannou has a chance to solidify his position in the division when he takes on former champion Andrei Arlovski in his biggest matchup to date when the heavyweights clash at FOX UFC Fight Night from Denver.
Ngannou knows that this high-profile fight will give him the perfect opportunity to send a rather stern message to the rest of the heavyweight division that he has officially arrived.
"On Saturday night, I want to cement myself and make everyone in the heavyweight division know that the new champ is here," Ngannou told FOX Sports. "I'm here to come take the belt.
The scary man is here and they are supposed to be scared because I'm focused, I'm determined and I'm more than ready. -- Francis Ngannou
Ngannou's frightening words seem to match his terrifying style inside the cage, but he's not getting cocky ahead of his first fight against a top ranked opponent like Arlovski.
While the former heavyweight champion has fallen on hard times lately with three straight losses, Arlovski has only faced the best of the best throughout his UFC career and Ngannou knows "The Pit Bull" will try to rebuild himself with a win over the top prospect in the division.
"I know that Andrei Arlovski is a good fighter, an elite fighter. He's the former champ of the UFC heavyweight division," Ngannou said. "So for this fight, I know that and I know he lost his last three fights against fighters who had a chance to become champion.
"I think in this fight he will give his best to come back again. Because he wants to prove that he can be champion and this would be an opportunity for him to come back. I think he will very, very strong and very ready."
On paper, the fight between Ngannou and Arlovski looks like the kind of battle that will end with one of them staring up at the lights or face down like Ric Flair just flopped on the canvas.
Ngannou and Arlovski both average over three significant strikes landed per minute with over 40-percent accuracy and the two of them combined for less than one takedown per 15 minutes in the Octagon.
Still, as much as Ngannou would love to stand and trade with one of the UFC's all-time knockout artists, he's not too sure Arlovski will actually want to eat many of his punches before looking for an alternative plan.
"He can try to trade with me but once he trades with me he will find out it's not a good idea," Ngannou said. "That's why I would like fight someone (like Arlovski) because before I only fought wrestlers. Now I would like to fight someone who is a striker, but I think he will try for a takedown.
"I am ready for all of that."
As much as facing an established name like Arlovski is about opportunity for Ngannou, the towering heavyweight still believes this could be another lopsided win in his favor.
Ngannou has the utmost respect for what Arlovski brings to the table, but in the end, he expects another dominant finish to add on to his growing resume of victims.
"I think if I follow the game plan and the instructions of my coach and my team, I will dominate him, too. I will win," Ngannou said.
"I don't think about the decision in this fight. This fight will probably be finished in the first or the second round. I want to get a knockout or if he gives me a submission, I can take that, too. I'm able to finish it very fast. I know he's strong and very dangerous and I have to be careful of that. But if I stick to my game plan, I know I can finish the fight."