FOX Sports Wisconsin Midweek Stock Report for Nov. 11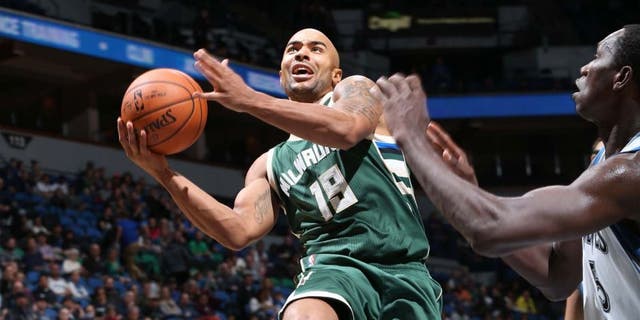 Every Wednesday, FOX Sports Wisconsin takes a look at which athletes' stock is trending up and whose is trending down.
In other words, who is making a meteoric rise, and who is quickly plummeting.
With that in mind, let's "take stock" of the current sports scene in Wisconsin, shall we?
Greg Monroe, Bucks C
Monroe has owned the low post for Milwaukee so far in 2015-16, and had an especially effective night last Saturday, in a 94-86 win over Brooklyn. On that night, the 6-foot-11, 265-pounder bullied his opponent to the tune of 20 points on 8-for-16 shooting from the field. Then, on Tuesday, Monroe pulled down 14 rebounds to go along with 17 points in the Bucks' 99-83 loss to Boston. The Bucks have been a bit inconsistent as a whole this season, but their big man has been a pillar in the post.
Natrell Jamerson, Badgers CB/KR
This sophomore helped put Wisconsin over the top in last Saturday's 31-24 victory over Maryland with an electric kick return. Jamerson unleashed a 98-yard kickoff-return touchdown during a sluggish first half in which Wisconsin totaled just 94 yards of offense. From there, the Badgers (8-2 overall, 5-1 Big Ten) largely restored order. Jamerson ended the day with 125 total return yards.
Jerryd Bayless, Bucks PG
Bayless tormented the Nets last Saturday night, filling the stat sheet in nearly every way imaginable in Milwaukee's 94-86 win. Bayless ended the night with 19 points on 7-of-13 shooting, to go along with 10 assists, two blocks and two steals. The 10 assists were one shy of the 27-year-old's career high. The Arizona product is averaging 10.7 points per game this season.
Ha-Ha Clinton-Dix, Packers FS
With the Packers trailing 37-14 in the fourth quarter during Sunday's eventual eight-point loss to the Panthers, Clinton-Dix began arguing with accomplished veteran teammate Julius Peppers near Green Bay's bench. Packers teammate B.J. Raji eventually stepped into the middle of the verbal altercation and shoved Clinton-Dix backward. The game of football lends itself to such emotional exchanges on occasion, but the 22-year-old Clinton-Dix did himself no favors by creating such a public display.
The Badgers' ground game
Here's all you need to know about Wisconsin's rushing performance last Saturday: the Badgers were led in rushing yards by a linebacker, as Joe Schobert registered one 57-yard run. Other than that, the Badgers largely struggled, as Dare Ogunbowale ended the day with 47 yards on 19 carries. Four players ended the game against Maryland with one rushing yard or less, and Wisconsin totaled just 117 yards on 40 attempts (2.9 yards per carry).
Eddie Lacy, Packers RB
To paraphrase countless fantasy-football owners throughout America: What in the world has happened to the Packers' star running back? Lacy was limited to five carries for 10 yards on Sunday at Carolina, with one lost fumble, on a day in which he suffered a groin injury. The third-year Alabama product has just 308 rushing yards so far this season, with two touchdowns. In Green Bay's two losses, the 25-year-old running back averaged just 3.0 yards per carry.
Follow Kelly Beaton on Twitter