FOX Sports reporter Jamie Little to pull two-week NASCAR/Supercross double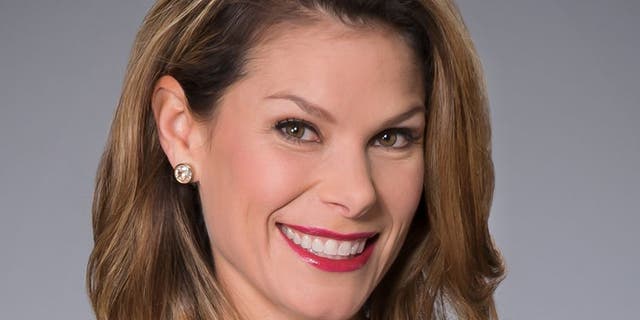 This extended Q&A marks the seventh in a series with FOX Sports motor sports personalities to be highlighted over the next several months. On a weekly basis, FOX NASCAR reporter Jamie Little covers pit road in the NASCAR Sprint Cup Series and NASCAR XFINITY Series. However, during the next two weeks, she expands her usual "double duty" to another racing discipline -- Monster Energy AMA Supercross.
Prior to covering the NASCAR Sprint Cup Series race at Bristol Motor Speedway on Sunday, April 17 (FOX, 1 p.m. ET), Little hosts FOX's live coverage of Monster Energy AMA Supercross on Saturday, April 16 (2:30 p.m. ET) from Edward Jones Dome in St. Louis. The following week, the Las Vegas resident has hosting duties for Supercross' first-ever visit to Gillette Stadium in Foxborough, Mass., on Saturday, April 23 (FOX, 3:30p p.m. ET) before flying to Richmond International Raceway late that night for the network's NASCAR Sprint Cup Series race coverage on Sunday, April 24 (1:00 p.m. ET). To learn more about Little, please CLICK HERE and follow her on Twitter at @JamieLittleTV.
FOX SPORTS: NASCAR drivers say they benefit from the extra seat time that running a "double" provides. Would you say this applies to reporting and hosting at all?
LITTLE: I wouldn't say this really applies here because it's two different skill sets in two different -- completely different -- sports. I'm hosting Supercross and reporting on NASCAR. On my regular weekends, when I cover three days of practice and qualifying for the XFINITY and Sprint Cup Series, that's when it's about the 'seat time,' and it's helpful.
FOX SPORTS: You've raced on two and four wheels (won the Toyota Pro/Celebrity Race; only the second female in history to win). Which are you better at and which did you enjoy more?
LITTLE: I had fun racing mini bikes in my 20s. I loved it. I absolutely loved racing a Toyota Scion in the Toyota Pro/Celebrity Race. I edged out Truck Series champion Mike Skinner to take the win in 2008. It was the most exciting day of my life (until I got married and had my child, of course!). The 40th and final Pro Celeb Race is taking place the same day I'm hosting Supercross in St. Louis. It's such a special race and I was thankful Toyota gave me the chance and invited me back. But pulling triple duty was a little out of the question.
FOX SPORTS: How much does it help you to have raced dirt bikes when covering Supercross?
LITTLE: The biggest advantage is I've been a fan of Supercross since I was 13. I rode a dirt bike for the first time when I was three with my dad. I still remember that feeling and smell. I was hooked. Being a tomboy and understanding athletes' lives and their sport is a big plus. Supercross is my roots! I didn't race enough for it to be a huge help as a broadcaster, but I rode enough to understand the fundamentals and the absolute athleticism it takes to race at that level. I feel the same with racing cars. I did just enough to respect what those guys do and know a little bit about the feeling they have in that seat.
FOX SPORTS: How do the challenges of covering NASCAR and SX on a weekly basis differ?
LITTLE: Supercross is a one-day event. That keeps it simple. NASCAR is a three-day event during which we have the ability to cover everything leading up to the race, so no story goes untold. Covering Supercross is definitely a bigger challenge for me now only because I don't do it every week. I'm not IN the sport constantly like I am with NASCAR.
FOX SPORTS: Have you ever done a "double" before?
LITTLE: The closest thing I've ever done to a double was last year when I had the privilege of flying to the Indy 500 with Jeff Gordon to document his day there driving the pace car. Then we flew back to Charlotte, and I covered the Coca-Cola 600 for FOX. But doing the double is pretty smooth when you have private planes, chauffeurs and police escorts.
FOX SPORTS: How are you preparing for these two long weekends?
LITTLE: The main thing is preparation for the task at hand. Everything else will fall into place. I have to make sure I eat -- a lot -- drink plenty of water and get lots of sleep. All of those things come easy for me as I take good care of myself on any given work weekend.
FOX SPORTS: You'll have some logistical help getting from point A to point B during this time. Could you get used to the "rock star life?"
LITTLE: Too funny, but this is on a much smaller scale and I'm doing all the coordinating. Runners at each race will help me get from the track to the airport and the airport to the next hotel or track. That'll be key. Weather is my only concern. Fingers crossed.
FOX SPORTS: You have a unique story in how you got your start in the two-wheel world. How did that unfold?
LITTLE: I met a guy named Carey Hart when I was 13 and had just moved to Vegas. He raced and introduced me to Supercross. I was hooked! He now owns a Supercross team and is married to Pink. We're still buddies. I used to take dirt bike magazines to class in high school. People just didn't get it. When I was 21, I approached a camera guy with ESPN and asked if I could do local work with him within the two-wheel world. I did that for two years for free and climbed the ladder doing nothing but working toward my goal of reporting on the sport.
FOX SPORTS: Who do you have your eye on for both Supercross and NASCAR wins this weekend?
LITTLE: In Supercross, it's hard to pick against Ryan Dungey. He's been hard to beat this year. I really like Ken Roczen's chances, too. As far as Bristol, I'm going with Carl Edwards. He's been so close to that win and consistently running top 10. And he's good at Bristol.
FOX SPORTS: You'll host Supercross coverage on FOX in the sport's maiden appearance at Gillette Stadium on April 23 (3:30 PM ET). How cool is it to be part of a "first time?"
LITTLE: I love seeing firsts. The energy is always great when you go somewhere for the first time. That's a pretty special venue, so it'll be memorable. I am honored and even more excited.
FOX SPORTS: You are going to get very little sleep the next two Saturday nights. What beauty tips/secrets will you employ to look camera-ready on Sunday?
LITTLE: Lots of makeup! Haha. That and my simple ponytail. Bright lipstick helps me feel fresh and camera ready. Lots of water. No alcohol and plenty of food.
FOX SPORTS: Where do you see yourself in 10 years?
LITTLE: Hopefully, still part of broadcasting races in some capacity along with a role in helping the younger generation of race broadcasters fulfill their dreams. Plus, a bigger role in animal advocacy.
FOX SPORTS: What is your current involvement with animal advocacy efforts?
LITTLE: I'm a mom to three rescue dogs and an active volunteer and spokesperson for The Animal Foundation in Las Vegas. It's Nevada's largest shelter. In my free time, I walk adoptable dogs there. I'd like to do more to raise money and awareness for homeless animals, and I'd love to lobby for a law that makes it illegal for pet stores to sell anything but shelter animals in order to help eliminate puppy mills.
Other Q&A's in this series:
? Mike Joy