Four-time Silver Slugger Mike Trout's Top 5 home runs of 2015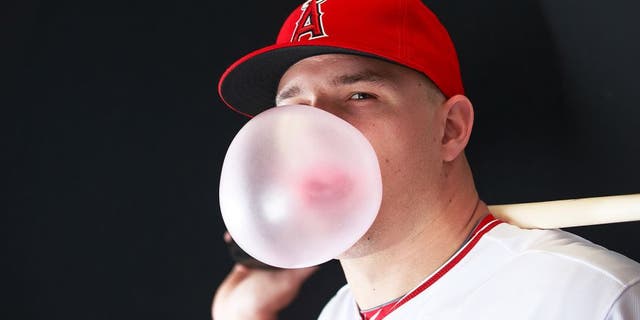 Mike Trout leaves everyone in awe with his skills on both sides of the diamond, and this week he was recognized with his fourth consecutive Silver Slugger Award after slugging 41 home runs in 2015. That he's already done this in his career and is just 24 years of age is simply astounding, but the man has a flair for finding new ways of impressing folks day in and day out.
Here's a look back at some of Trout's most impressive home runs of the past season that helped earn him another Silver Slugger.
1. Opening Day solo shot against King Felix (April 6)
Trout stepped up against Seattle Mariners ace Felix Hernandez on April 6 and cracked a solo homer at Safeco Field to start his season with a bang. To make this even more impressive, this was the SECOND time in two seasons he began his year by hitting a homer off the King. That's...good.
2. Career home run No. 100 over the Crawford Boxes (April 17)
Minute Maid Park in Houston can look pretty small when powerful sluggers step up and crush line drives over the fence. That's what Trout did on April 17, blasting the 100th home run of his young career with a two-run shot over the scoreboard in left field.
3. Trout takes down Greinke at All-Star Game (July 14)
This one might not have counted for his season stat line, but everybody remembers it. Trout went with an outside pitch from Zack Greinke (who had a 35-inning scoreless streak heading into the ASG) and lined a leadoff home run to right field at Target Field in Minnesota. What makes this even crazier was that it locked up an 'All-Star Game cycle' for Trout, who was playing in his fourth Midsummer Classic. In order, Trout hit a single in his first at-bat of the 2012 ASG, a double in his first at-bat of the 2013 ASG, a triple in his first at-bat of the 2014 ASG and now this Greinke blast. Once again, that's...a cut above.
4. Trout goes down and gets one to beat Boston (July 17)
A scoreless tie to the bottom of the ninth presented Trout with an opportunity to be a hero against Boston Red Sox closer Koji Uehara, and of course he came through.
5. Mike hits the 'Trout Net' in RF with grand slam (July 26)
For his 31st home run of the season, Trout crushed an opposite-field grand slam that was caught by a fan in right-center field. What makes it even better is that this fan had fashioned his own 'Trout Net' in hopes of making a play...and that's exactly what happened. Naturally, the man and his son met Trout later in the summer to celebrate the moment.
These are just a handful of Trout's key moments of 2015, another top-notch season carried out by one of this generation's truly gifted players. Who knows what he has in store for 2016!