Foster possibility to play in Week 3 vs. Buccaneers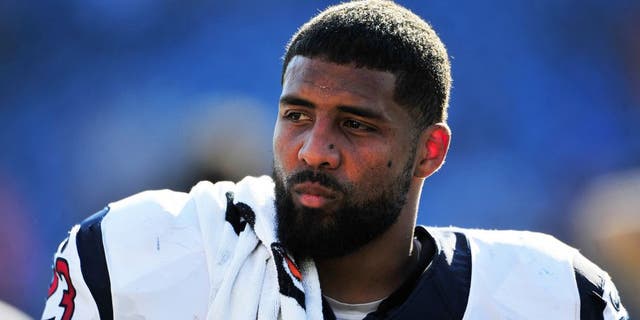 HOUSTON (AP) -- The quarterback switch to Ryan Mallett didn't keep the Houston Texans from starting 0-2. They're hoping Arian Foster's eventual return reverses their fortunes.
Coach Bill O'Brien didn't rule out the star running back returning to the lineup this week. O'Brien said Monday that Foster (groin) is listed day to day ahead of the Texans' Week 3 home date against Tampa Bay.
Foster was injured during training camp and Alfred Blue, Chris Polk and Jonathan Grimes have taken his snaps by committee.
Foster was injured during training camp and Alfred Blue, Chris Polk and Jonathan Grimes have taken his snaps by committee.
"The running back position, that's the way it's going to be," O'Brien said. "We're going to rotate guys in and out of there, different guys for different schemes, different personnel groupings, things like that. I think the offensive line has played a little bit inconsistent, but at times they've looked really good. There's been some yards out there that maybe we've missed."
In three games, Polk leads the Texans in rushing with 19 carries for 60 yards. Polk rushed for 38 yards on 14 carries in the 24-17 loss to Carolina on Sunday.
No Texans tailback has a rushing touchdown in 2015. Foster rushed for 1,246 yards and eight touchdowns in 2014.
Getting better results from the running game is a collective effort, O'Brien said.
"I think sometimes there were things that we could do both up front and from the quarterback position to get us into the right play," he said. "The overall execution of the running game from the basics of the hand off, and how we're executing the running as it relates to the scheme in the backfield, those things can be better, the blocking can be better."
Meanwhile the offensive line continues to reshuffle.
O'Brien confirmed tackle Jeff Adams is out for the season with a torn patellar tendon. Tackle Duane Brown (thumb) is day to day, O'Brien added. So is Xavier Su'a-Filo (calf).
Brown has been weight training to maintain strength, but he hasn't done much work on the field. He hopes the week off means he's closer to returning.
"It helped some," he said. "But it's something I have to be smart about and not rush. It's a long season, so I just want to be smart about it."
The defense's progress was also a topic Monday. Players believe there are positives though the first two weeks, but they have yet to put a complete game together.
"I think we're close, but I think it's easier said than done," cornerback Johnathan Joseph said. "I think for whatever reason, we have a couple lapses here and there. If you want to be a great and dominant defense, you can't have those lapses anytime throughout a game."