Forward Pass: All eyes are on Jim Harbaugh & there's plenty of reason why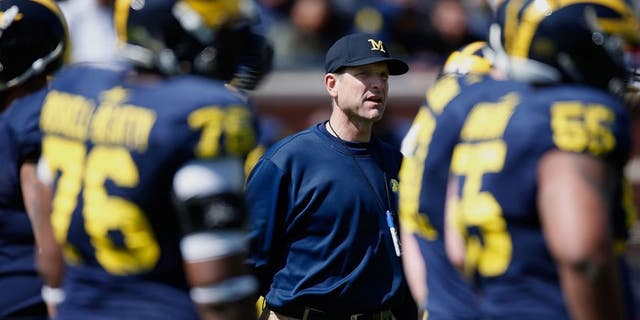 NEWYou can now listen to Fox News articles!
Discussing his team's Thursday night opener against Top 25-caliber foe Utah, Michigan coach Jim Harbaugh broke out one of his uniquely awkward but well-intentioned analogies.
"You want to be at that big boy table -- big person's table, might be better to say. There's another table over there in the kitchen for those people that aren't seated at that big person's table. If someone wants to go over there, no one's going to be upset if they do. But this is what we signed up for, this is what I signed up for, and I know a lot of our players did."
Much of the reason Harbaugh is back at Michigan is that college football's all-time winningest program has spent much of the past decade at that table in the kitchen. Since 2007 -- a.k.a. the Appalachian State year -- the Wolverines have enjoyed just one double-digit win season while enduring three losing records. They've muddled their way to a 30-34 Big Ten record. And adding to the indignity, they've watched one rival, Ohio State, win a national championship, and the other, Michigan State, morph into a Top 10 fixture.
Combine all those years of pent-up desperation in Ann Arbor with the arrival of a former Maize and Blue quarterback-turned Super Bowl coach-turned social media sensation and you get the sport's most anticipated coaching debut in recent history.
Urban Meyer taking over his native Ohio State three years ago was a similarly big deal, but the Buckeyes opened that 2012 season against a Miami of Ohio team coming off a 4-8 season. Ditto the first-year Alabama coach Nick Saban kicking off against Western Carolina in 2007.
Harbaugh makes his Michigan debut on 2015's opening night, against a returning nine-win Pac-12 foe in a game that's elicited its own khaki-trimmed bus. The Harbaugh element is so powerful that Michigan is managing to completely overshadow the home team, encapsulated by esteemed college football journal Popular Mechanics dubbing the Utes a "cupcake" (despite the fact Utah won 26-10 in Ann Arbor last season).
"Doesn't bother me in the least," overshadowed Utah coach Kyle Whittingham told FOX Sports. "It will be a big stage. It's a Thursday nighter, with limited games on that night, with all the intrigue and excitement about Harbaugh's first game. We're going to be under the microscope."
It could also be a telling window into just how much progress the Wolverines have or have not made in one offseason of Harbaugh tutelage. Utah is one of the nation's most physical teams, this year boasting a Heisman-aspiring running back (Devontae Booker) and a small army of capable pass-rushers. Harbaugh's Stanford and San Francisco 49ers teams characterized themselves with much the same traits.
Michigan has been in "submarine mode" this preseason, with Harbaugh, his staff and players offering almost no window into the state of the team, but the few fortunate practice visitors have described a much more talented team than last year's 5-7 record would indicate. Wolverines fans are undoubtedly eager to see Iowa transfer quarterback Jake Rudock (the unconfirmed but presumed starter), who will test himself against last year's national leaders in sacks (55).
"It's going to be exciting," said Whittingham, "because we feel our strength is at the line of scrimmage, it has been for a lot of years. Coach Harbaugh, he prides himself on power football. It's absolutely an intriguing matchup."
Intriguing to the point that many might forget there are also new head coaches making their debuts this weekend at familiar programs like, oh, Nebraska (Mike Riley vs. BYU). And Florida (Jim McElwain vs. New Mexico State). And Wisconsin (Paul Chryst vs. a little team called Alabama).
And new beginnings are hardly limited to the sidelines. Oregon (against Eastern Washington) and Florida State (vs. Texas State) begin life without Heisman winners Marcus Mariota and Jameis Winston, respectively. And their replacements will be an FCS All-American (Oregon's Vernon Adams) and a former BCS championship game starter (FSU's Everett Golson).
Meanwhile, a ballyhooed true freshman, Josh Rosen, takes over as UCLA's quarterback (against Virginia). Others not that far removed from high school may find themselves starting Saturday in Notre Dame Stadium (Texas linebacker Malik Jefferson against the Irish) and the Houston Texans' stadium (Texas A&M receiver Christian Kirk against Arizona State).
Sure, we will also see familiar faces like TCU's Trevone Boykin (Thursday night at Minnesota) and Ohio State's Ezekiel Elliot (Monday night at Virginia Tech). Utah State's dynamic but injury-plagued Chuckie Keeton will start his fifth-straight season opener (against Southern Utah). But with college football's inherent roster turnover and constant coaching churn, every season feels like the start of a new era.
But this Harbaugh thing -- it's in a whole other stratosphere. For one thing, his hire has a chance to redefine rivalries, boost an entire conference and perhaps eventually, affect a College Football Playoff race. He evokes much the same "when, not if" confidence as the Alabama-Saban and Ohio State-Meyer hires (both of which have indeed produced championships).
Whether that ascension begins Thursday night, though, is far from guaranteed. But it is, at long last, an actual football game. Come kickoff, stories about satellite camps and shirtless photos will mercifully become a distant memory.
BAD MEMORIES FOR BUCKEYES
Urban Meyer said it took about two hours to film his "They're coming" speech in a now-ubiquitous College Football Playoff promo. "Either I'm a bad actor, or it just takes them a long time," Ohio State's coach told FOX Sports last week.
From throwing out first pitches to visiting the White House, the offseason has been a non-stop series of reminders for Meyer that his team is defending national champion. Prepping for next Monday's opener against Virginia Tech, however, has forced him to relive Ohio State's one game last season that went terribly wrong.
"We're going on the road, at a team that physically beat us," Meyer said of the Buckeyes' 35-21 Week 2 home loss last season. "Unfortunately, I have to sit and watch that film. It's painful to watch it."
Meyer said he was "shocked" when the Hokies subsequently stumbled to a 6-6 regular season (while Ohio State rolled off 13 straight wins). A creative scheme by Virginia Tech defensive coordinator Bud Foster -- he essentially used a Bear package (five down linemen) the entire game -- caught Buckeyes coaches completely off-guard. "I went back and they ran it 2 percent of the time the year before," said Meyer.
The Buckeyes won't likely be surprised Monday night in Blacksburg. In fact, it's Virginia Tech that is contending with the biggest mystery in college football -- which star quarterback will Ohio State start? (In a possible clue, players voted J.T. Barrett, not Cardale Jones, a co-captain last week.)
But the AP's unanimous preseason No. 1 team will go in a tad short-handed. All-American defensive end Joey Bosa and productive receiver Jalin Marshall are among four Buckeyes suspended for the opener for undisclosed violations of team rules. And last week, sophomore receiver Noah Brown, a breakout performer in preseason camp, suffered a season-ending leg injury.
The Buckeyes remain double-digit favorites, but their Monday night opener provides an intriguing bookend to the five-day weekend that begins with their archrival's coaching debut.
"Obviously it gets your attention going more than if you're playing a team that's just overmatched," said Meyer. "I can't think of an [opening] game like this that we've ever had."
BAMA'S MAKING BANK
For the sixth time in eight seasons, Alabama opens up Saturday on a neutral field (AT&T Stadium in Arlington, Texas) against a respected Power 5 opponent (Wisconsin). Nick Saban's team will return there next year for a sure-to-be anticipated clash with USC, then meets Florida State in Atlanta in 2017 and Louisville in Orlando in '18.
It's an opportunistic and lucrative strategy.
Alabama A) ensures an opponent likely to impress the selection committee, B) never has to play a true road game out of conference (its last was in 2011) and C) cashes a fat paycheck (a reported $4 million for Saturday's game, $6.5 million for USC next year). That's money it would never see on the back end of a home-and-home.
What's remarkable, too, is just how well the Tide have performed in these glamour openers, beating Clemson 34-10 in 2008, Virginia Tech 34-24 in '09, Michigan 41-14 in '12, Virginia Tech 35-10 in '13 and West Virginia 33-23 last season. All five of those opponents went on to win at least seven games.
No. 3 Alabama is widely expected to put on another clinic Saturday, listed as a double-digit favorite against the 20th-ranked Badgers, but there's arguably more mystery surrounding this squad's identity than in any of those aforementioned openers.
Most notably, Alabama went into its final week of preparation still deciding between three quarterback contenders, senior Jake Coker, junior Alec Morris and sophomore Cooper Bateman. Saban has indicated a likely repeat of 2010, when he essentially used the first game to audition both AJ McCarron and Phillip Sims, but at least then most assumed McCarron would win it. There's no sure bet here, in part because Saban apparently views them as interchangeable.
"I asked an offensive lineman, 'Which one of the quarterbacks do you like the best?'' Saban said last week. "He said, 'Well, since we don't huddle, we don't even know who's in there.'"
Meanwhile, whoever plays quarterback will be working with a mostly new receiving corps. ArDarius Stewart, who had 12 catches last season, is likely the No. 1 target. True freshman Calvin Ridley is likely to play a major role.
You might say none of that matters, that Alabama will just give the ball to Derrick Henry a lot and dominate defensively -- and that may well work Saturday -- but coordinator Lane Kiffin runs more plays and likes to throw more often than previous Saban play-callers. He'll need a competent passing game. We'll get our first look soon enough.
PRESEASON BOWL FORECAST
Each week, I'll update my predicted lineup for the New Year's Six bowls based on the latest week's games.
Peach: Notre Dame (at-large) vs. Boise State (Group of 5)
Fiesta: Virginia Tech (ACC champ) vs. Arizona State (at-large)
Sugar: Alabama (SEC) vs. Baylor (Big 12)
Rose: Michigan State (Big Ten) vs. Oregon (Pac-12 champ)
Orange (semifinal): No. 1 Ohio State vs. No. 4 Auburn
Cotton (semifinal): No. 2 Texas A&M vs. No. 3 TCU
Yes, those are my preseason picks, and yes, they are slightly against the grain, but newsflash: There will be surprise teams in the playoff. We know this because someone outside the pre-approved groupthink consensus always emerges as a contender. If it's not Texas A&M, it will be someone equally unheralded.
As for how I slotted the teams into their respective bowls:
--It doesn't make much difference travel-wise whether No. 1 Ohio State goes to Dallas or Miami, but the possibility of TCU-A&M in Arlington is too logical to pass up.
--The Rose (Big Ten-Pac-12) and Sugar Bowl (SEC-Big 12) get their contract conferences, but Oregon is the only champion from that group that doesn't get into the playoff. Michigan State (Rose) and Alabama-Baylor (Cotton) are my next highest-ranked teams from those leagues.
--ACC champ Virginia Tech also misses the playoff, and its contract bowl (the Orange) is taken, so the Hokies are guaranteed an open spot in the Peach or Fiesta. The Peach makes more sense geographically, but …
--… I've got hometown Arizona State in the Fiesta, and I've also got to find spots for Boise State and Notre Dame. The Irish just played the Sun Devils last year, and Boise played in the Fiesta last year. So it makes sense to send both Boise and Notre Dame to Atlanta.
--Hence, the Hokies go to Glendale.
I fully expect to change this around completely after seeing the teams play.
ILLINOIS CANS BECKMAN, UPGRADES INSTANTLY
Last week, I was one of four FOX Sports "experts" to predict, among other things, the first coach to get fired this year. Sadly, I'm already 0-for-1 before they even play a game.
Last Friday, Illinois fired coach Tim Beckman amidst an investigation into allegations of misconduct raised by several former players. AD Mike Thomas -- himself very much on the hot seat -- deemed the "preliminary results" so troubling as to merit canning his head coach a week before the first game. It probably doesn't hurt that the school now gets to fire its 12-25 coach for cause and save itself a buyout payment. (Beckman, not surprisingly, disputed the grounds for termination.)
Beckman seemed like a bad hire from the very earliest stages of his tenure, first endearing himself in July 2012 by flying with his assistants to State College to try poaching Penn State players in the wake of that program's NCAA sanctions. He lost his first 14 Big Ten games. He lost badly to a Conference USA team, Louisiana Tech, in his lone bowl appearance. And he seemed to think the local media's job was to help cheer on the Illini.
He will be missed -- by other Big Ten coaches.
Frankly, Illinois upgraded in promoting offensive coordinator Bill Cubit, 61, who led Western Michigan to bowl eligibility in five of his eight seasons as head coach there from 2005-12 and drastically upgraded Illinois' offense upon arriving in Beckman's second season. Interim coaches can often be a disaster -- see Arkansas' John L. Smith in 2012 -- but in this case, preemptively removing the negativity surrounding Beckman could prove a positive.
The Illini, which open Friday night against Kent State, were one of about seven Big Ten teams that figured to swing anywhere from 4-8 to 8-4. Personally, I'm more optimistic for them now than I was a week ago. In the bigger picture, though, the whole miserable Thomas/Beckman era represents yet another low point for a long-suffering program.
ON TO THE WEEKEND
Three games we're most excited for:
--Michigan at Utah (Thursday, 8:30 ET). I'm legally obligated to remind you that "coverage begins at 7 p.m. ET on Fox Sports 1," which includes colleague Dave Wannstedt's interview with Colonel Khaki Pants himself.
--Arizona State vs. Texas A&M (Saturday, 7 ET). In one of the week's few genuine toss-ups, John Chavis' revamped A&M defense will need to get pressure on Sun Devils QB Mike Bercovici or risk getting lit up.
--Ohio State at Virginia Tech (Monday, 8 ET). The Hokies' have the makings of an epic defensive line, led by end Dadi Nicolas and tackle Luther Maddy. But they will still need to score to have a chance.
Three games you shouldn't miss:
--Auburn vs. Louisville (Saturday, 3:30 ET). Expectations are through the roof for the anticipated Will Muschamp effect on Auburn's long-suffering D. Offensive whiz Bobby Petrino could prove a challenging Week 1 foil.
--Alabama vs. Wisconsin (Saturday, 8 ET): A year ago Joel Stave missed the Badgers' opener against LSU with a case of the Yips. Now, the fifth-year senior makes his 29th career start against a fearsome front seven.
--Texas at Notre Dame (Saturday, 7:30 pm ET): The Malik Zaire era officially begins in South Bend. Tune in for the pageantry and the rarity of Texas playing at the Golden Dome, but the game itself could be ugly.
One under-the-radar gem:
--Penn State at Temple (Saturday, 3:30 ET): The Nittany Lions quietly fielded the nation's seventh-ranked scoring defense last season -- three spots below Temple. And the Owls bring back all 11 starters on that side of the ball. Enjoy.
Stewart Mandel is a senior college sports columnist for FOXSports.com. He covered college football and basketball for 15 years at Sports Illustrated. You can follow him on Twitter @slmandel and Facebook. Send emails and Mailbag questions to Stewart.Mandel@fox.com.