Formula One: Hamilton Snags Poll At Spanish GP as Vettel's Car Stalls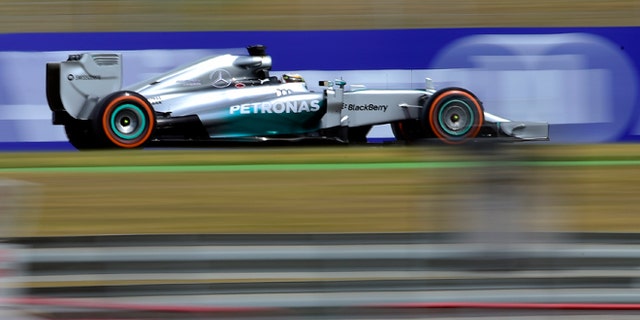 MONTMELO, Spain (AP) – Lewis Hamilton earned his fourth pole position of the Formula One season Saturday as Mercedes was again in a class of its own at the Spanish Grand Prix, while four-time champion Sebastian Vettel was left stranded by his faulty Red Bull.
Hamilton clocked a leading lap of 1 minute, 25.232 seconds on the sunny and dry Barcelona-Catalunya circuit for his 35th career pole.
Overall leader Nico Rosberg came in second, setting up another driving duel between the teammates. Hamilton has won the last three races right in front of Rosberg, with the rest of the field far behind.
"Nico was really driving well though practice and qualifying," said Hamilton. "I didn't know if I was going to get it, but right at the end I had to eke out absolutely everything I could get from the car."
Vettel's car rolled to a halt during Friday's first practice session, and it failed him again early in the third period of qualifying. The struggling champion will start Sunday's race from back in 10th on the grid.
As Vettel's troubles mounted, new partner Daniel Ricciardo finished with the third fastest time ahead of Williams' Valtteri Bottas and Romain Grosjean in his Lotus.
Fernando Alonso, last year's winner here, could do no better than seventh place, right behind Ferrari teammate Kimi Raikkonen.
Hamilton had complained to his team early in the day that they had "made the car worse" after minor changes to try and improve on its already commanding performances from Friday when the British driver dominated both practice sessions.
"It was a real handful for me," said Hamilton. "It was back to square one. I was a half second behind Nico but at the end I did it by the skin of my teeth."
Rosberg wasn't afraid to show his disappointment.
"I don't particularly enjoy coming second to Lewis," he said. "But all it takes is a good start tomorrow and I am in the lead again."
Hamilton and Rosberg are poised to dominate a fifth straight race of the year after sweeping the first four and taking all five pole positions.
That dominance was acknowledged by Ricciardo.
"We are best of the rest. But that is not good enough, we are still a second off," the Red Bull driver said. "We have made some improvement, but they being Mercedes have done so as well. Even with a different strategy in the race, it is going to be difficult to make up a second each lap."
In 23 races held here at Montmelo, 15 pole sitters have gone on to the win the race, while only two drivers have won when starting from third place or lower.
Red Bull appeared to have Vettel's car back in a good enough condition to compete, but his problems started when he pulled out of the garage and by the third curve his car came to a halt.
Vettel told his team by radio, "I have no drive. I'm sorry. I have no drive" before he jogged back to the pitlane while waving to the fans.
Less than two minutes into the session, Pablo Maldonado crunched the right wheel of his Lotus when he lost control coming out of a right-hand turn and slammed into the wall on his third lap. Maldonado, who won here in 2012 with Williams, emerged unscathed from the car before it was hauled away.
Follow us on twitter.com/foxnewslatino
Like us at facebook.com/foxnewslatino