Former Broncos coach Gary Kubiak, retired just a month, already plans return to football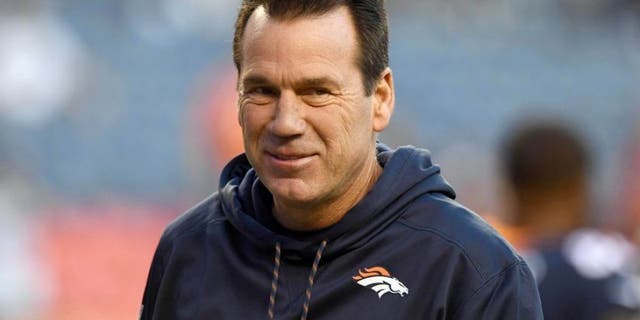 Gary Kubiak has been retired for just a month, but the Super Bowl-winning coach already is planning a return to football.
"I want to work," Kubiak told the Denver Post on Thursday in his hometown of Houston. "I still get up every day at 4:30 and I want something to do. Lately I've been getting on my tractor and messing around the farm."
Kubiak called it quits as head coach of the Denver Broncos last month, revealing that his career had taken a toll on his health. But while Kubiak said his next job won't be as a head coach, he's entertaining several possibilities, including in the college ranks.
"I've had some great conversations around the league with some people. Is that personnel? I don't know. I talked to some colleges about various situations that are very interesting to me," Kubiak told the Post. "What I'm going to do is make sure I take a good break here -- it's only been a month -- then I'm going to make a decision and go get after it. I'm hoping within the next couple of months I'll decide on where I want to go next and what I want to do.
"My next stop is not going to be coaching, and I'm kind of excited about that because there are a lot of things about the game that I've always loved. I love evaluating, I love the draft, I love evaluating players and doing those types of things. I had some really interesting conversations with some colleges. So we'll see."
The Broncos, Kubiak says, are in good hands with new coach Vance Joseph, whom he tried to recruit to his staff in Denver. And Kubiak still has two sons on the coaching staff: Klint, an assistant quarterbacks coach, and Klein, a scout.
"Getting (offensive coordinator) Mike McCoy back and (quarterbacks coach) Billy (Musgrave) -- Billy's availability surprised the heck out of me," Kubiak told the Post. "And I know (offensive line coach) Jeff Davidson real well. (Assistant OL coach) John Benton, who worked for me in Houston and who I think the world of, and the defense, you know what we thought of (defensive coordinator) Joe Woods. Between Vance and Joe working together, I think that's a powerful group."