Ford Motor Co. officials acknowledge Greg Biffle's career accomplishments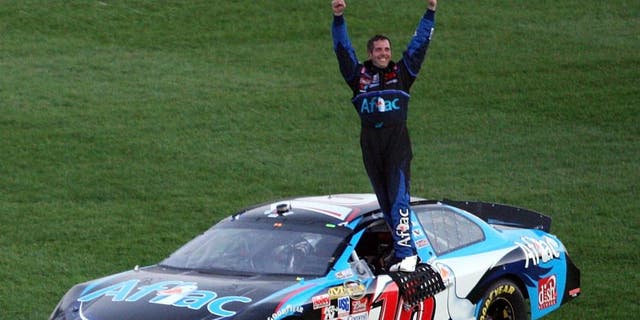 Greg Biffle and Roush Fenway Racing announced they were parting ways earlier this week after nearly two decades of racing Fords together in NASCAR's three national touring series.
While Biffle has yet to definitively determine what he's going to do next, it appears that his time behind the wheel of a Ford in NASCAR has come to an end.
And what a ride it was, with Biffle, winner of 19 races in the NASCAR Premier Series, compiling these accomplishments in his career:
--Won Ford's first NASCAR Camping World Truck Series championship in 2000.
--Won Ford's first NASCAR XFINITY Series championship in 2002.
--Captured the 1,000th victory for Ford in NASCAR on June 16, 2013 at Michigan International Speedway.
--Tied with Davey Allison for 11th-place on Ford's all-time NASCAR Sprint Cup Series win list with 19.
--Ranks fourth for most Ford victories in NASCAR's top three series combined with 53 (19 NSCS, 18 NXS, 16 NCWTS).
--Won the season-ending Ford 400 at Ford Championship Weekend three straight years (2004-2005-2006).
--Led the NASCAR Sprint Cup Series with six wins in 2005 and finished a career-best second in the point standings.
Ford Motor Co. executives took note of Biffle's many career milestones in their race cars.
"One of my fondest memories in NASCAR is being able to welcome Greg to Victory Lane at Michigan when he won our 1,000th NASCAR race," said Raj Nair, Ford's executive VP of product development and chief technical officer. "We had so many Ford employees at the track that day and it's a moment that I'll always cherish. We wish Greg nothing but the best and thank him for all he's done in representing Ford on and off the track."
And from Dave Pericak, global director, Ford Performance: "Greg Biffle has done so much for Ford during his NASCAR career and all we can do is thank him for being such a hard-charging competitor and loyal ambassador to our brand. Greg has achieved many milestones with us and no matter where his career path takes him from here, he'll always be a welcome member of the Ford family."
With all that in mind, check out the video below to reminisce about when Biffle won the NASCAR Premier Series season finale for the third consecutive year at Homestead-Miami Speedway.