Follow all the action at UFC Fight Night: Lineker vs. Dodson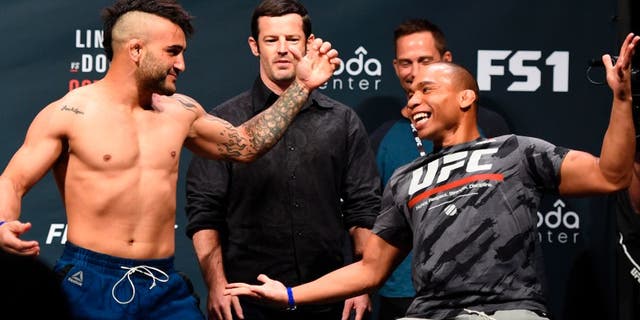 Two of the hardest hitting bantamweights are set to square off on Saturday night as John Lineker faces John Dodson in an explosive five round main event from Portland, Oregon.
Lineker has been on a tear since moving to 135 pounds with three wins in a row, but he'll face a very tough test against Dodson, who is a two time title contender at 125 pounds and also holds a win over former bantamweight champion TJ Dillashaw.
Also on the card, Will Brooks continues his push up the lightweight rankings after joining the UFC earlier this year when he takes on ultra tough Brazilian Alex "Cowboy" Oliveira.
Brooks could be a real contender to the 155 pound title, but Oliveira will give him an extremely tough challenge when they meet in the co-main event.
Follow along with all of the action at UFC Fight Night: Lineker vs. Dodson starting with the prelims on FS2 at 9 p.m. ET followed by the main card on FS1 starting at 11 p.m. ET. Keep it here for blow-by-blow coverage all night long.