Flyers work overtime to put more juice in power play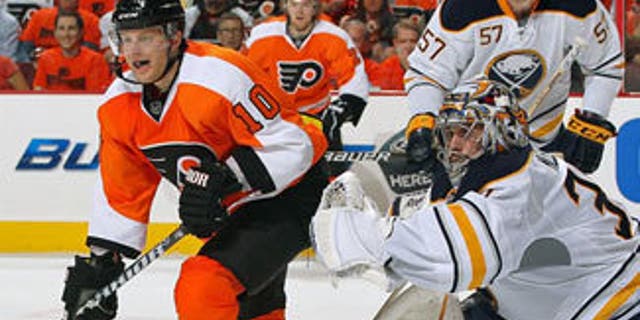 VOORHEES, N.J. -- With their power play struggling at a 2-for-26 clip through five games of their Eastern Conference Quarterfinal series against the Buffalo Sabres, the Flyers spent extra time working on the man advantage during Saturday's practice here at the Virtua Health Flyers Skate Zone.
Kimmo Timonen manned one point on the first unit, with Mike Richards and Danny Briere alternating at the other, while James van Riemsdyk, Claude Giroux and either Briere or Richards played down low. A second unit featured Timonen and Andrej Meszaros at the points, with Nikolay Zherdev, Ville Leino and Scott Hartnell up front. Those units worked for about 15 minutes before practice started, and again at the end.
In a series that has featured four one-goal games and a fifth that was a one-goal game until a late empty-net goal, any missed opportunity could be a series changer.
A prime example came in Game 5 on Friday. With the game tied 3-3, Buffalo's Jordan Leopold was sent off for holding with 2:22 left in the third period. The Flyers managed just three shots and had another attempt blocked. Buffalo took the momentum from that penalty kill and scored 5:31 into overtime to take a 3-2 series lead, with a chance to move to the second round in Game 6 Sunday in Buffalo (3 p.m. ET, NBC, TSN, RDS).
"We can't just rely on our power play, but at the same time, they can be game-changers," defenseman Matt Carle said. "Last night we had the opportunity there in the last two minutes to capitalize on that and we didn't. Now here we are down 3-2 (in the series)."
Assistant coach Joe Mullen oversees the power play, but coach Peter Laviolette took a more watchful eye on Saturday's extra work.
"I wasn't any more hands-on or hands-off than I've been all year," Laviolette said. "Not a lot of tweaking. Just movement and continue to movement and work on things."
Laviolette said despite the results, he liked the way his power-play performed on four of its five chances, getting 12 shots on net on its five advantages.
"I think Buffalo has done a good job," he said. "We have had a lot of shots and a lot of looks on this power play, we haven't been able to get it through. They've done a good job of taking away lanes and blocking shots -- there's been a lot of blocked shots. They've done a good job of putting their body in front of it so we're trying to change the lane and change the angle and by doing so we're missing the net. We just haven't gotten those breaks and those bounces we're looking for. The opportunities are there. There was one power play (Friday) that we didn't like, we weren't very successful on it, the third or fourth one. A lot of them there's a lot of zone time, a lot of looks, we just can't seem to get the right look and the right bounce and the right opportunity. There's 12 shots on the power play (Friday); went back and looked at it and there were 27 attempts. We just can't seem to get it in there."
With each team having scored 12 goals in the series, one or two additional power-play goals for Philadelphia could change the tone of the series.
"It's frustrating," Hartnell said. "Seems like the first few games we weren't getting it in the zone, we weren't getting set up, we were chasing the puck the whole time. They're burning 30 seconds every time they shoot the puck down. ... The last couple games we've had some good opportunities, had some end-zone time. Just not getting that timely tip, that timely bounce, that nice shot. We have to stick with it. We have great players that would be on first power-play units on lots of teams. We have to bear down and work a little harder."
Despite the problems, the players remain confident that eventually they'll take advantage of their opportunities.
"You can't look behind; you've just got to look ahead," Hartnell said. "We're focused on Game 6. As much as it's in our heads or whatever, there's a lot of pressure on them to realize that we're going to be due one of these games for a couple power-play goals, and if we get a couple tomorrow we'll hopefully end up winning that game."
Contact Adam Kimelman akimelman@nhl.com. Follow him on Twitter: @NHLAdamK