Fletcher Cox on Eagles defense: We can be one of the best in NFL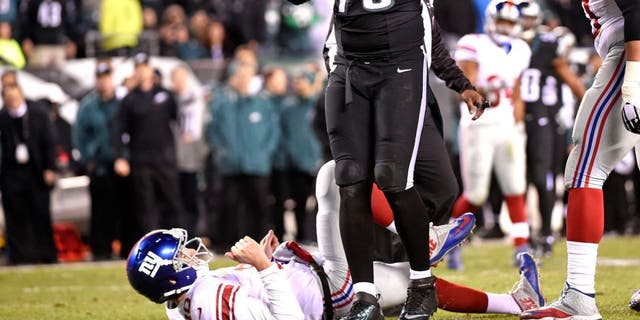 NEWYou can now listen to Fox News articles!
The Eagles sacked Eli Manning as many times (3) as he had been all season in their Week 6 27-7 win. Eric Hartline USA TODAY Spots
After a second consecutive dominant performance, Philadelphia Eagles defensive lineman Fletcher Cox was ready to make a bold statement about the defense.
"We striding. We are getting better and better each week," Cox said of the defense to reporters after the game, per True Jersey. "(We) can be one of the best defenses in the league as long as we go out and compete."
The Eagles have certainly become one of the NFL's best defensive teams through the first six weeks. In their Week 6 27-7 win over the New York Giants, the defense allowed just 247 yards of total offense and the Giants converted just 4 of 13 third down attempts. The defense was all over Manning, tallying three sacks, seven quarterback hits and intercepting Manning twice.
The Eagles paid defensive back Byron Maxwell a lot of money in free agency to help prevent the big passing play -- this was something the Eagles struggled with in 2014. Maxwell hasn't been as dominant as many expected in 2015, but he had his best game as an Eagle in Week 6. Per Pro Football Focus, he allowed just 38 yards receiving against the Giants.
"Our goal is to be the best in the league and be elite," Maxwell said. "We got work to do, but we are heading that way."
The defense has created 16 turnovers in six games and they have allowed an average of 94.2 rushing yards per game. With the ability to take away the running game, the Eagles have had their opportunities to attack opposing passing games with their aggressive style of defense. This has resulted in constant pressure and big plays by the defense.
MORE NEWS: Want stories delivered to you? Sign up for our NFL newsletters.