Five Chargers facing a make-or-break season in 2015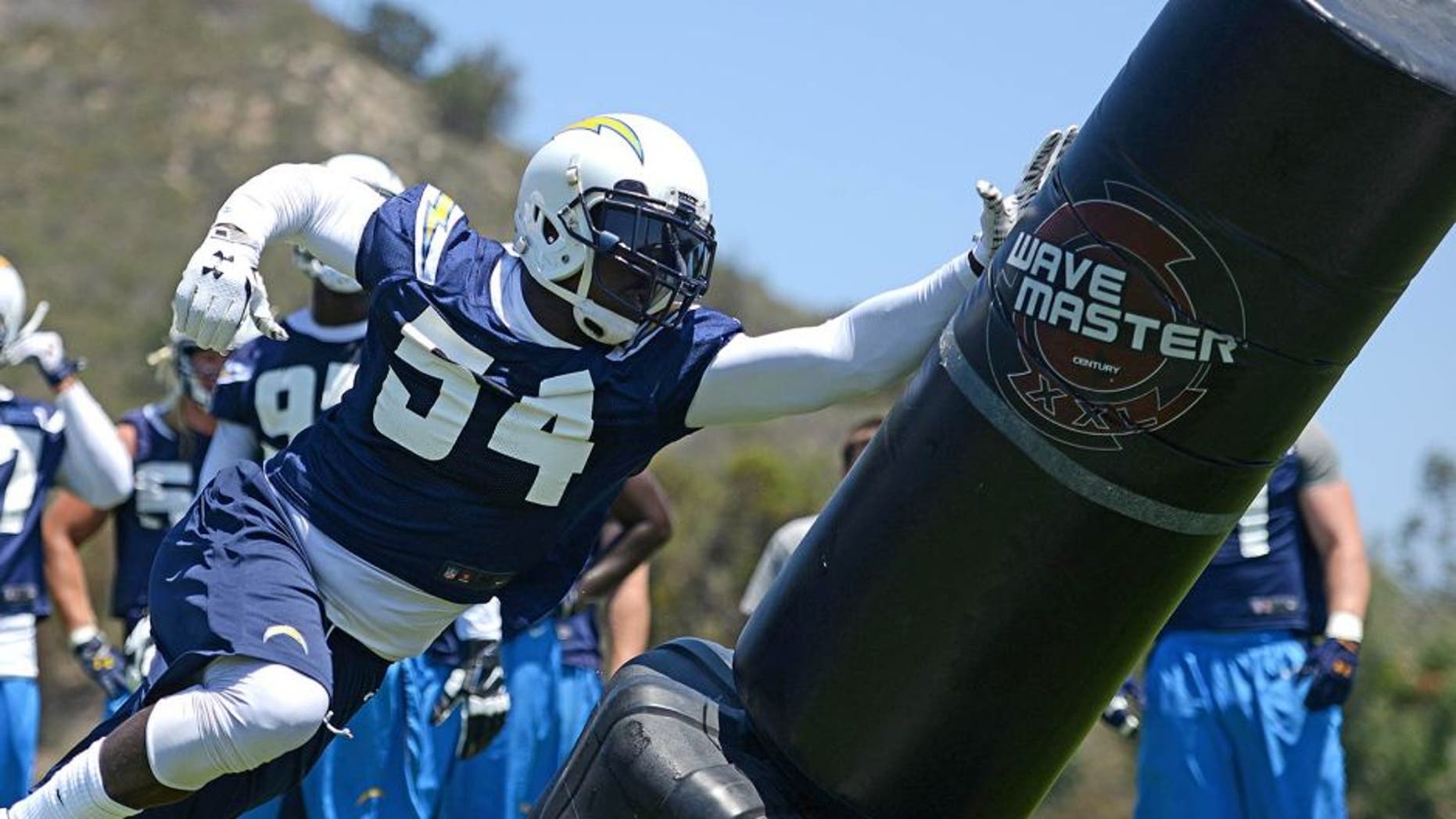 Eric Weddle is disgruntled, but he's not incorrect.
The Chargers' star safety his team's current era will come to an end sooner rather than later. His deal expires after 2015. Philip Rivers' deal ends after 2015. And 35-year-old Antonio Gates may or may not be back.
All this under the looming prospect of Los Angeles relocation. San Diego has a roster in flux, and it's not just up to head coach Mike McCoy to piece a playoff season together. These five players can help bridge the gap between eras by stepping up their game.
Donald Butler, inside linebacker
Donald Butler cashed in on a breakout 2013 season with a new, seven-year contract. The Chargers hope the linebacker they saw last season isn't the one they'll pay through 2020; otherwise, they'll move on from No. 56 and eat an unwieldy amount of dead money.
In terms of dead money, that's like paying for another team's franchise quarterback. The Chargers would much rather Butler step up his play. If not, they'll happily start Manti Te'o and second-round pick Denzel Perryman in 2016.
DJ Fluker, right tackle
Fluker is a bit of an enigma as he enters his third season in Chargers blue. On one hand, he's a dominant run blocker who just manhandles defensive linemen at the point of attack. On the other, he's a spotty pass protector who could get Philip Rivers in a lot of trouble against speedier AFC West pass rushers. He'll either need to step up or kick inside to guard.
Melvin Ingram, outside linebacker
Ingram, a first-round pick in 2012, has only six career sacks to his name. Paying an unproductive player like that as a starter stings -- knowing that the Chargers could've had Chandler Jones or Bobby Wagner in that same draft class just hurts. That can change in 2015; Ingram will be asked to play a starring role in a defense devoid of edge rushers. It'll be up to him to produce.
Danny Woodhead, running back
Danny Woodhead is the diminutive underdog that Bolts fans root for. The front office will be eying him closely, though -- he's on the wrong end of 30, coming off a season-ending injury, and not very cap-friendly at $2.5 million. Plus, his role on the Chargers is shrinking now that Melvin Gordon is in town.
Stevie Johnson, wide receiver
Stevie Johnson once posted three consecutive 1,000-yard seasons in Buffalo. Chargers fans are right to imagine his output with Philip Rivers under center, but they're also right to question his 2014 production. That output -- 35 receptions for 435 yards -- just won't cut it at his $2.1 million price tag. Luckily, he could double those stats in Eddie Royal's old role as the Chargers' slot machine.
*All salary cap information courtesy of OverTheCap.com.