Five Bengals to watch in Friday's preseason opener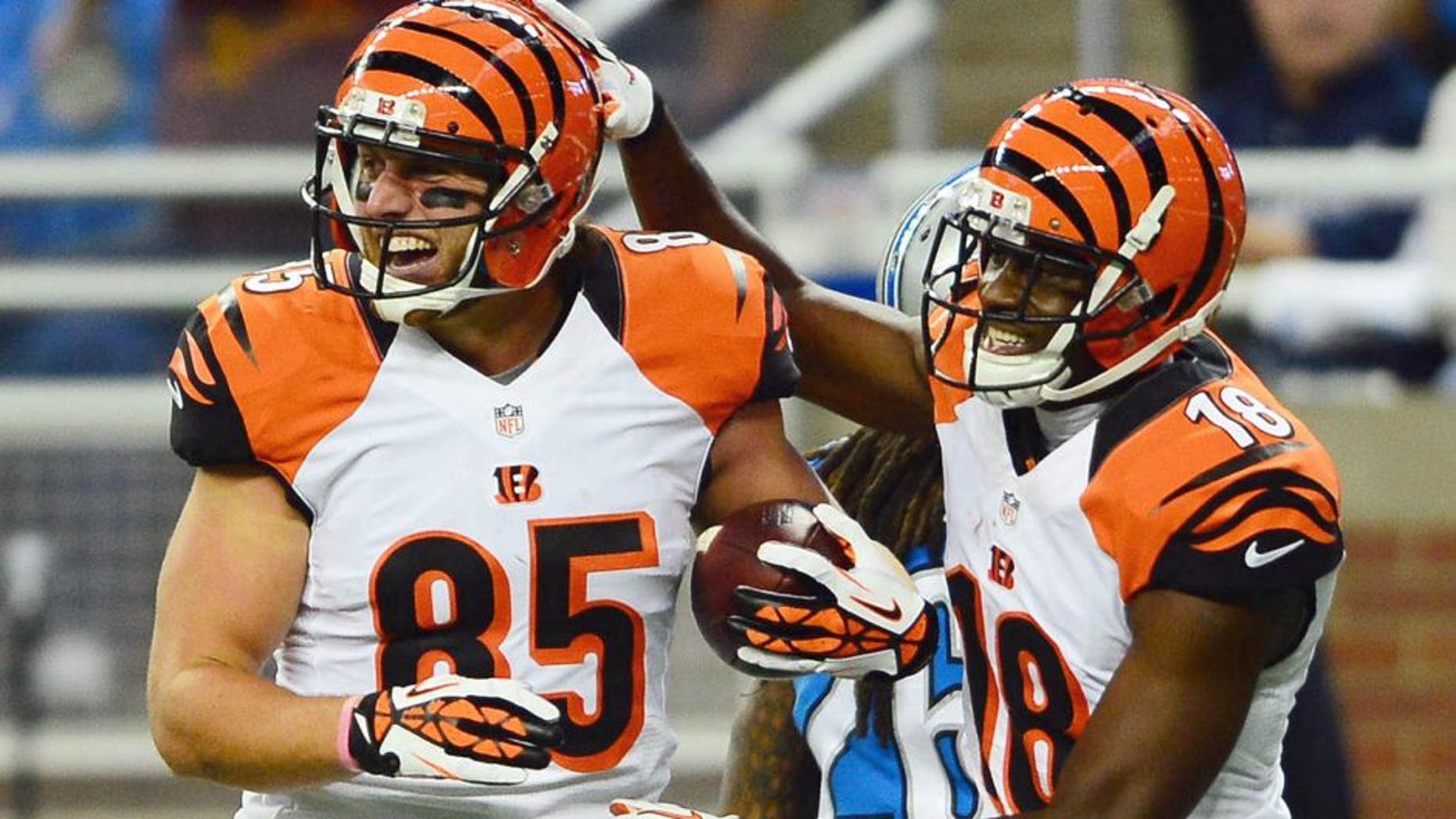 After two joint practices earlier in the week, the Bengals and Giants will pick it up a notch in Friday's preseason opener at Paul Brown Stadium.
Andy Dalton has two big weapons back in his arsenal as he tries to push the offense to the next level this season. He probably won't play more than a series or two, but we should get a look at a handful of key players who will be looking to make an impact. Here are five players to keep an eye on Friday night.
Tyler Eifert
Eifert's 2014 season lasted just one quarter thanks to a gruesome elbow injury in Week 1 in Baltimore. With Jermaine Gresham out of the picture, Eifert has a chance to become one of Dalton's most valuable targets. He's looked the part in camp, but getting up to game speed against live opponents is a different story. Look for Dalton to look Eifert's way early and often, just as he has in practice.
Marvin Jones
Jones hasn't seen live action since catching eight balls for 130 yards in Cincinnati's playoff loss to San Diego at the end of the 2013 season. Foot injuries sideline him all of 2014, and a hamstring issue has
kept him off the practice field this summer. He returned in time to get plenty of reps during Wednesday's workout with the Giants. Now he'll get to turn it loose against the Giants secondary with full contact.
A.J. McCarron
McCarron will take an NFL field for the first time as a Bengal, if he is able to play Friday night. A chest injury suffered earlier in the week has McCarron labeled a gametime decision. After not playing last preseason due to a shoulder injury, McCarron is undoubtedly eager to play, but it will be up to the doctors. McCarron has had some accuracy issues in camp so he needs to start showing that he is capable of being Dalton's backup this season.
Darqueze Dennard
Dennard has looked sharp in camp and even caught the eye of Giants receiver Odell Beckham this week. After hardly seeing the field his rookie season, the former first-round pick seems ready to take the next step. He should see plenty of reps and may even get a few cracks at Beckham.
Devon Still
Still and his daughter Leah captured the nation's hearts over the past year, but now it's time for the defensive tackle to get down to business. While he obviously had other things on his mind last season, Still needs to start living up to his potential as a second-round pick. With the depth Cincinnati has on the defensive line, Still is fighting for a roster spot. He has vowed to repay the Bengals for the loyalty and patience they showed him last season. He arrived at camp 20 pounds lighter with a lot more muscle on his 295-pound frame and says he's in the best shape of his life.