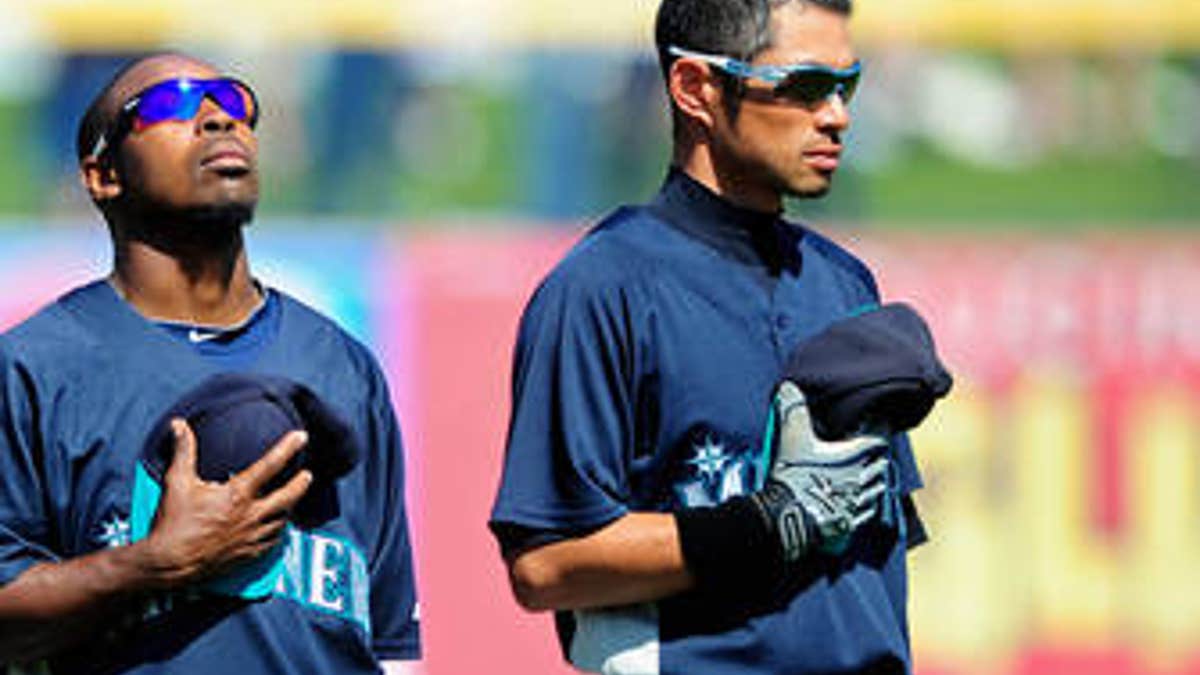 When Eric Wedge said the idea of removing Ichiro from the leadoff spot has "as much to do with his teammates as it has to do with him," the Seattle Mariners manager might as well have screamed Chone Figgins' name.
Wedge has yet to commit to dropping Ichiro or returning Figgins to the top of the order, where he excelled with the Los Angeles Angels before signing with the M's as a free agent in December 2009. But Wedge said he is giving both moves strong consideration, as well he should.
Suzuki, 38, posted a career-low .310 on-base percentage in 2011. Figgins, 34, suffered through a second straight poor season and did not play after Aug. 1 due to a hip injury. It's difficult to argue that he has earned a return to the leadoff spot. But it's time for the Mariners to give him the best chance to succeed.
Figgins acknowledged in a telephone interview Wednesday that the adjustment to hitting second behind Ichiro has been difficult for him -- and that he will need to be more aggressive in his approach if Wedge uses the same batting order next season.
"It would be great to go back to leadoff and do that again," Figgins said. "If not, I have to change my mindset as a '2' hitter. I haven't really changed my mindset to be a '2' hitter. I've stuck with being a patient hitter.
"In the '2' spot, you need to be a little more aggressive. It's something I haven't done more consistently. I haven't been consistent being more aggressive in the strike zone."
So, there you have it.
Ichiro no longer is one of the game's great leadoff hitters. Figgins still isn't fully comfortable as a No. 2 hitter. And the Mariners offense, for two seasons now, has been by far the worst in the American League.
Why not make a drastic change?
Wedge says he is leaning that way, and sounds intrigued by the idea of batting Figgins first, Dustin Ackley second and Ichiro third. Ackley, a left-handed hitter, is capable of driving the ball into the gaps, enabling the Mariners to score quickly if Figgins is on base.
Figgins, entering the third year of a four-year, $36 million contract, is a major investment -- and major disappointment. But rather than give up on him, Wedge sounds intent on helping him revive.
The Mariners moved Figgins from third base to second in 2010, then back to third last season. Now Wedge is talking about Figgins bouncing between positions, reprising the super-utility role he once had with the Angels. The manager also is talking about Figgins becoming an offensive catalyst again.
"I think he can be the player he was before," Wedge said. "That's my goal. I still believe that's possible.
"He's not old by any stretch. He's in great shape. He was in here in January, and it was the strongest I've seen him. I saw him taking batting practice. The ball was coming off his bat better than I've seen in a long time.
"He still cares about the right things. He's a good person, a good teammate. He's still a good athlete. He may be hungrier than he's ever been. And the impact he can have -- it's like signing a free agent. All of those things are real to me.
"The flip side is, he's had two really, really bad years. He hasn't succeeded in Seattle yet. It's a risk. But nothing ventured, nothing gained."
The truth, though no one dares say it around the Mariners, is that hitting behind Ichiro isn't easy. Ichiro's goal is not to get on base, but to get on base with a hit, collect 200 hits a season. He is unpredictable, playing at his own rhythm. And when he starts an inning with a quick at-bat -- Ichiro ranked near the bottom in pitches per plate appearance among leadoff men last season -- the No. 2 hitter is in a difficult spot.
At that point, a rival hitting coach explained, the No. 2 hitter is almost forced to be patient, or the pitcher will stand a good chance of breezing through the inning. Someone has to work counts, especially in the first inning when pitchers often are at their most vulnerable. And that task shouldn't fall to the No. 3 hitter.
Wait, doesn't Figgins prefer to work counts? Yes, but the psychology of the at-bat in the No. 2 hole is entirely different. A patient leadoff man will measure a pitcher's fastball, assess his secondary stuff, set up the inning for the hitters behind him. But hitting second for the Mariners, the pressure on Figgins to extend an at-bat can be even greater, even if Ichiro is on base. The pitchers know it and attack accordingly.
So, here's the problem: Figgins needs to be patient, but can't be patient or he'll fall behind in the count. True, he has seen almost exactly the same percentage of first-pitch strikes with the Mariners as he did with the Angels, according to Bloomberg Sports. But the rival hitting coach said the issue is indeed real, the kind of thing that can mess with a hitter's mind and erode his confidence.
The numbers indicate Figgins has lost his way. He is chasing more pitches out of the strike zone than he did with the Angels, and his walk rate declined markedly in each of his first two seasons with the Mariners. Yet, Figgins maintains he still isn't aggressive enough.
"Being in that spot and understanding that Ichiro is an aggressive player -- that's what makes him great -- I need to understand that when he is aggressive, I need to be aggressive, too," Figgins said. "A lot of times I get behind in the count too much."
But isn't patience his game?
"That's the adjustment I have to understand and make," Figgins said. "There were spots in 2010 and last year where I got better at it, got back on track because I was being more aggressive. I'm still having my patient tendencies. But at certain times, I have to be more aggressive. Early in the game, I have to be more aggressive."
Perhaps, but some would suggest Figgins' problems stem more from his low batting average on balls in play than anything else. His BABIP was .359 in his final season with the Angels, .318 in his first season with the Mariners and an absurdly low .216 last season.
The drop is attributable, in part, to Figgins' declining line-drive percentage, so it's possible he simply is not the hitter he once was. Then again, maybe he would be more comfortable back in the leadoff spot and become a reasonable facsimile of that hitter again.
Figgins said he is fully recovered from a labral tear in his right hip socket; he spent the offseason rehabilitating the muscles around the injured area. If Wedge hit Figgins and Ackley 1-2, perhaps Figgins could build the same type of connection with Ackley that he enjoyed with two of his No. 2 hitters in Anaheim, Bobby Abreu and Orlando Cabrera.
Neither Figgins nor the Mariners can do worse, and giving Ichiro a fresh challenge in the final year of his contract wouldn't hurt.
Nothing ventured. Nothing gained. Nothing to lose.