FIFA President Blatter reportedly under investigation by US officials
U.S. prosecutors and the F.B.I. are investigating FIFA President Sepp Blatter as part of an ongoing corruption scandal, the New York Times reported Tuesday.
U.S. officials told the paper that they are hoping to build a case against Blatter by working with some of the FIFA officials currently under indictment and then work their way up the organization.
Blatter unexpectedly announced his resignation as head of soccer's governing body earlier Tuesday.
"This mandate does not seem to be supported by everybody in the world of football," Blatter said Tuesday at a hastily arranged news conference. "FIFA needs a profound restructuring.
"For years, we have worked hard to put in place administrative reforms, but it is plain to me that while these must continue, they are not enough," he added.
The 79-year-old Blatter was re-elected to a fifth term on Friday, two days after a corruption crisis erupted and seven soccer officials were arrested in Zurich ahead of the FIFA congress.
Elections are expected to take place sometime between December and March.
"I will continue to exercise my function [until the new election]," said Blatter, who looked strained and serious.
"By making this announcement, he has created an opportunity for us to go further than FIFA has before -- to fundamentally change the way in which FIFA is structured," Domenico Scala, chairman of FIFA's audit and compliance committee, said following the news conference.
The news of Blatter's resignation came as the office of the Swiss attorney general said Blatter is not under investigation by Swiss authorities.
"Joseph S. Blatter is not under investigation by the OAG. His announced resignation will have no influence on the ongoing criminal proceedings,'' the attorney general said in a statement.
Three days earlier, Blatter was defiant and feisty when fending off questions about FIFA's battered reputation and the chance U.S. federal agencies could seek his arrest.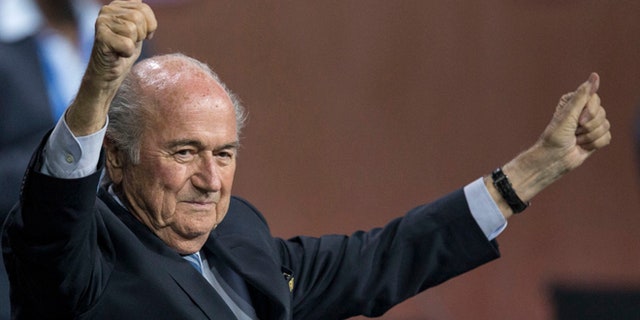 Blatter said he reached the decision after he had "thoroughly considered my presidency and ... the last 40 years in my life."
Blatter joined FIFA in 1975 as technical director for development projects, was promoted to general secretary in 1981 and spent 17 years as right-hand man to Joao Havelange of Brazil before being elected to lead world soccer.
The new election will be overseen by Domenico Scala, chairman of FIFA's audit and compliance committee.
Scala gave a statement immediately after Blatter in which he praised a decision that was "difficult and courageous in the current circumstances."
"This is the most responsible way to ensure an orderly transition," Scala said.
The Associated Press contributed to this report.